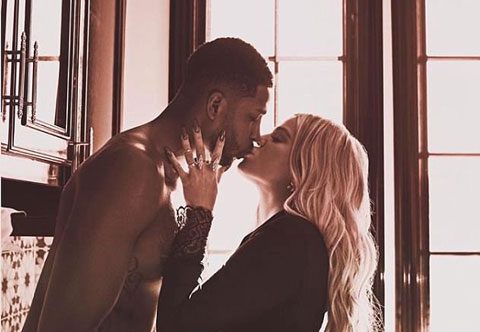 As TV reality star Khloe Kardashian prepares to give birth any day, her boyfriend Tristan Thompson may have been caught creeping. Multiple media outlets, including TMZ and Page 6 are reporting that Thomas has been caught in public with a strip club employee named Lani Blair.
Images have popped up on social media of Thompson and Blair at PH-D Lounge, a rooftop bar in Manhattan, and the private club SoHo House this past Saturday night. Paparazzi stalked the couple until they returned to the Four Seasons Hotel early Sunday morning. Page 6 was the first to identify the woman in social media posts as Lani Blair and her place of employment. But if Thompson wanted to keep their relationship quiet, Blair did not.
TMZ reported that Blair, who has the Instagram handle  @ms.stephaniee_, uploaded raunchy texts allegedly sent by Thompson. The text reads:
"If I was there I would grab u while u try to walk away from me than [sic] I would pull ya hair and kiss you than [sic] rip ya clothes off and lay u down while I suck ya p—- and say sorry. Than [sic] I'll stick this long d— in you slow but deep."
She then followed up by posting a sex tape of her with Thompson on the Instagram account. Since the story broke, the account has been made private.