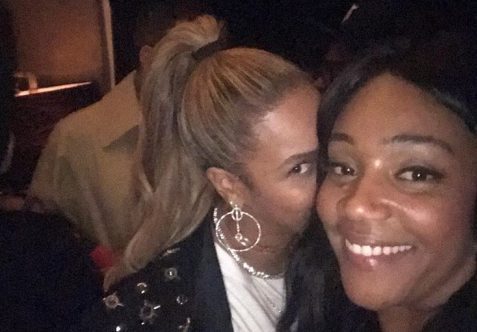 Tiffany Haddish completely fabricated the story about a mysterious, drunk and thirsty actress biting Beyoncé on the cheek at an after-party in December, actor Richard Lawson told the press.
Lawson, who became Beyoncé's stepfather after marrying her mother, Tina Knowles, 64, in 2015, told ABC Radio that the alleged event never happened.
Lawson, 71, was speaking with the news outlet to promote the new BET legal drama "In Contempt" when the infamous subject was broached by the interviewer. "It was something that was blown out of proportion and Tiffany just got a ride from doing it."
"And so her numbers probably jumped up," he says, referring to the Girls Trip actress's social media fan base. "Other people jumped on the bandwagon and it's all a bunch of B.S. It's not real… It's not true."
In March, Haddish single-handedly started the #WhoBitBeyoncé national firestorm after the comedic actress told GQ that someone had chomped on Bey's face. The story mushroomed so widely and quickly that even anchors on the "Today" show and "CNN" were clamoring to find out who could have tasted Bey's cheeks.
Conjuring up the same cultural fever as "Who Shot J.R." back in the day, celebrities' names were bandied about as possible culprits. Most prominently passed about were actresses Sara Foster and Sanaa Lathan. Both vehemently denied they were the chompers.
Amid the growing scandal, model Chrissy Teigen and movie mogul Tyler Perry told the media that they had a good idea of who was responsible.
"My initial guess was wrong," Teigen had tweeted. "The real person? I 'never' would have guessed. I'VE SAID TOO MUCH."
But Lawson emphatically denies the episode ever took place and also claims Haddish lied about signing a non-disclosure agreement.
"Please, people," he says. "I swear to God– it's, like, unbelievable. It's not true!"
Lawson's new show, "In Contempt," premiered on April 10 on BET.