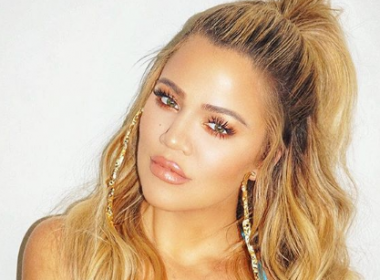 Twitter can be an unforgiving, merciless medium when it comes to dissecting one's personal business.
When it was revealed that Tristan Thompson of the NBA's Cleveland Cavaliers was flagrantly cheating on Khloe Kardashian, according to the Daily Mail, TMZ and other outlets, Twitter almost immediately roasted the statuesque child of Kris Jenner with "That's what you get!"
From social media's perspective, Kardashian is getting a strong dose of karma slammed right back in her face. It was revealed by multiple publications a few years ago that Thompson, 27, left his then girlfriend, Jordan "Jordy" Craig, 27, while she was very pregnant with (and very close to delivering) their child, Prince Oliver, and flew into the arms of Kardashian.
Today, Kardashian is also very pregnant, and very close to delivering her first child with Thompson when the photos and videos clearly show Thompson slobbing down an attractive woman inside a nightclub. Another photo shows the Cavs center entering a hotel with another woman.
As one of the Twitter users below stated succinctly (paraphrasing), how you get a man is the same way you will lose him. Most abhorred the way Kardashian knowingly began a relationship with Thompson while he was with Craig — then Kardashian had the audacity to talk trash to Craig despite the delicate condition Craig was in.
Now that Kardashian is experiencing the exact same type of infidelity that Craig did, Twitter tore into Kardashian.
Check out a sampling of the shade Twitter threw at Kardashian.
Tristan Thompson: "How pregnant are you?"

Khloe: "9 months."

Tristan: "It's about that time."

Khloe: "What do you mea-"

Tristan: pic.twitter.com/5qiaSpMAMz

— X (@XLNB) April 11, 2018
1. Khloe ain't got no bangers.

2. Black women have to uplift each other.

3. We don't like her.

4. Tristan left his pregnant, Black gf for Khloe and she took him, which makes her just as trash as he was for leaving. https://t.co/UJdmrXa1uX

— 🙅🏾‍♀️ Power Girl 🙅🏾‍♀️ (@TheJazzyBelle) April 10, 2018
Tristian left his pregnant girlfriend to be with Khloe and now people are shocked that he's cheating on Khloe while she's pregnant. Lolllllll

— Cierah (@seaairraw_) April 10, 2018
In all seriousness let this Khloe/Tristan drama be a lesson: The same way you get a man is how you lose a man & if a man does it once, he'll sure as hell do it twice…

— Jem (@JustJem24) April 11, 2018
Tristan Thompson cheating on Khloe Kardashian when she's ready to give birth to their child any moment proves no matter what girl a man got a home and their situation if he wants to cheat he'll cheat#shameful

— laura dixon (@laura_dixonxo) April 10, 2018
Tristan Thompson cheated on a pregnant Khloe Kardashian. Khloe knew two things. She took him while he cheated on his pregnant ex with her, and he averages 5.7 PPG.

— Dylan (@DylansFreshTake) April 10, 2018
When Khloe tells her dad that Tristan is cheating on her pic.twitter.com/URIv2BSfjf

— 🇯🇲🇬🇩 JUWOP (@BoofDaddi) April 10, 2018
Tristan Thompson dumb af….

Not only did he cheat on Khloe Kardashian, he's about to get in a legal battle with Kris MF Jenner… pic.twitter.com/1AxRXdQN36

— Lord Henny 🥃 (@MassuhGant) April 10, 2018
Khloe getting cheated on, while pregnant, by a man who cheated on his pregnant girlfriend, with her. pic.twitter.com/TqWCwCdkLo

— HMWHCJulius (@FunnyJulius) April 10, 2018