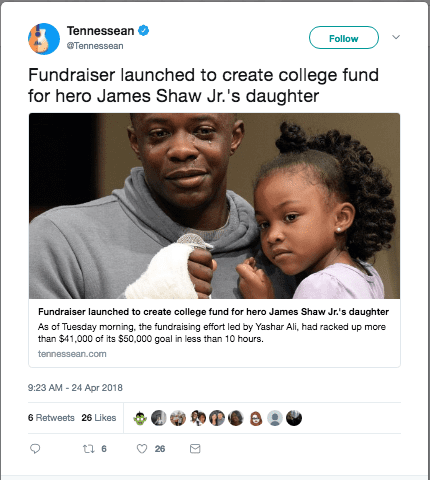 James Shaw Jr. grabbed the AR-15 and threw it over the counter while 29-year-old Reinking attempted to reload. It was used to kill four people at a Nashville, Tennessee Waffle House on Sunday, April 22, 2018. Following the tragedy that rocked communities worldwide, Shaw launched a GoFundMe page to raise money for the shooting victims and their families.
He writes:
"My name is James Shaw Jr. I am creating this page to help the families of the victims from the Shooting that took place at Waffle House in Antioch, TN. Please take the time to donate as all of the proceeds will be given to the families. Thank you again for your generosity and blessings!"
At the time of this writing, $100,205 of $15,000 goal has been reached. During a vigil for the victims of the Waffle House shooting, Shaw was holding his four-year-old daughter, Brooklyn. The thought of what he experienced drew a tear as he shared, "I actually tried to count the hairs on her eyelashes just because I was like I almost didn't see you anymore"
On Tuesday, April 24, Shaw received a standing ovation when he appeared before the Tennessee House of Representatives.
Yashar Ali of New York launched a GoFundMe in honor of Shaw for his heroism, act of good faith and altruism. And, it is also to create a college fund for Brooklyn. Ali writes on Twitter: "Alright, I decided to start a @gofundme for James Shaw Jr, the Waffle House hero. I normally hate when people say this, but in this case, I think its important…please RT."
6. $57,000 from over 1,600 donors! Thanks for helping James Shaw Jr! As I mentioned last night I started this because James has been so selfless and raised money for the victims so I wanted to help him in return. Hope everyone will continue to RT https://t.co/BkUyA63VOQ

— Yashar Ali 🐘 (@yashar) April 24, 2018