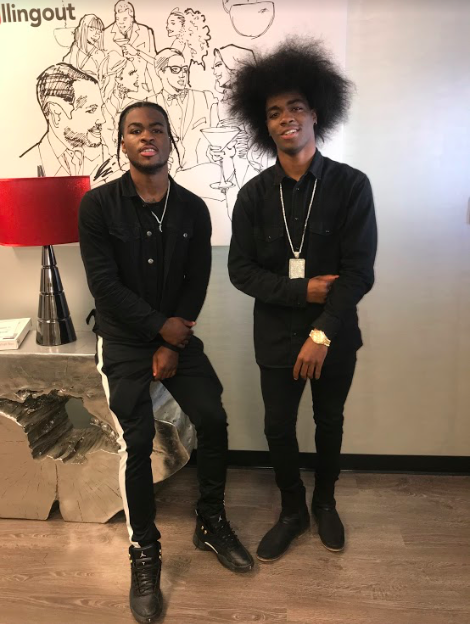 Originally from Dayton, Ohio, but now living in Atlanta, twins Tevon and Taiyon Hector are poised to take over the music industry. Their popular single "We Get Turnt Up" has helped them garner major deals. Just turning 21 last month, the two have had a  platinum-selling record and been offered major deals with various labels such as Warner Brothers, Universal Republic, and Atlantic Records. When queried about what made them want to start this career, especially with each other, Taiyon Hector said, "We wanted to just take our creative juices and to see where it would take us. It was just kind of natural. We just believe in each other."
Read their exclusive interview below.
Who are the Hector twins?
Taiyon: The twins are a dynamic duo who excels in entertainment, music, film and other forms of art. We are a definite universal brand with the potential to leave a legacy as the greatest twins.
When and how did you guys develop a passion for music?  
Taiyon: We've been doing this for about five to six years now. All throughout elementary and middle school, the principal would call us out of all the lunches to put together a rap. We won all the talent shows in school, but as far as starting our career, it was in high school. We were doing shows at different high schools while still in high school.
"We Get Turnt Up" is the single everyone knows you all by, but what new music can people expect? 
Taiyon: We just dropped a record on our birthday, April 17, called "Movie." It's just one big dope record, few thousand streams the first couple days out. We just shot the video to it. It's just really the lifestyle; our life is a movie, so it was only right that we put something out like that to the fans. The fans were dying for new music, so we gave them the "Movie."
Tevon: We also have music coming with C-Note, WillaFool, and some Cash Clay beats on the way. We've been working with a variety of different producers. Pop records, R&B records, and rap records, of course. It's pretty natural once we get in the studio, so we have a variety of a lot of music on the way.
As artists, what would you say is the most difficult thing to undergo? 
Taiyon: When dealing with art, it shouldn't be anything difficult; it's just a matter of remaining yourself. When you do face adversity, or when you do feel like what you're doing is not working, just remain yourself and try to adapt to what the people want to hear, but you don't want to sound like somebody else. The most difficult thing is probably just catering to the masses, and giving the people exactly what they want. Today's generation is very picky, but there's nothing in the way but yourself.
Tevon: As long as you're by yourself, and love what you do, there should be nothing difficult about it. 
What are five things you would tell someone who is trying to tap into the industry?
Tevon: Believe in yourself.
Taiyon: Dream big. Be creative. Make sure you have legal representation so you are never put into sticky situations where you can't get out of contracts. You need to ensure you have an exit route. The money will come. A lot of people chase money and lose themselves, so chase your own character to remain humble, and the universe will pay you.
Who inspires the twins?
Taiyon: Lil Wayne, he's impacted the culture, hip-hop, and rap alone. To see all he went through on the business side, and still endured speaks volumes. That's why it's so important when properly dealing with contracts. Witnessing probably one of the greatest rappers alive go through that, and sustain — that's just inspiration. Ice Cube, as well. The way he crossed over from music to film, he went stupid with it. From WMA Soundtrack to Fridays, and Are We There Yet? Shout out to Ice Cube.
Tevon: You can look up to everyone who is doing their thing though. I don't even have to give names because if you leave someone out, it could be something. Everyone is out here getting it. Even an employee at McDonald's getting a raise in management, or corporate getting a raise- it's all inspiring. You have to be self-inspired though, you got to get it for yourself.
Because you two are well-liked and respected, especially by women — are you currently dating anyone?
Taiyon: We have some nice friends. Right now, we're just feeling things out, and not necessarily trying to rush into things. We're just committed to our craft. We're testing our loyalty, honesty, trustworthiness, all that. As time progresses, the last woman shall stand.
When you all are not making music, what do you like to do in your spare time?
Taiyon: Play basketball, read the dictionary, things to better myself … We play chess, dominos, go skating, all sports, anything but on the ice. We like to do everything though; we don't have any limits.
Where do the twins see themselves in the next 10 years?
Taiyon: We are looking to have our own TV shows, own line of movies, and cartoons. Just major entrepreneurs, liquor lines, hair products, everyone just accepting us and embracing us as the greatest twins ever to step on stage, and to take on entertainment.
Tevon: We're just going all the way to the top.
Parting words?  
Tevon: Make sure you stay tuned. Just be one of those who stays around because when you see us on television, I'm going to be like, "I told y'all."
Taiyon: Shout out to all the kings and queens; everyone is geniuses in their own way. Never give up, never not try, and the worst question is a question not asked.
You can keep up with the two on Instagram @liltwinofficial and @tevonhector