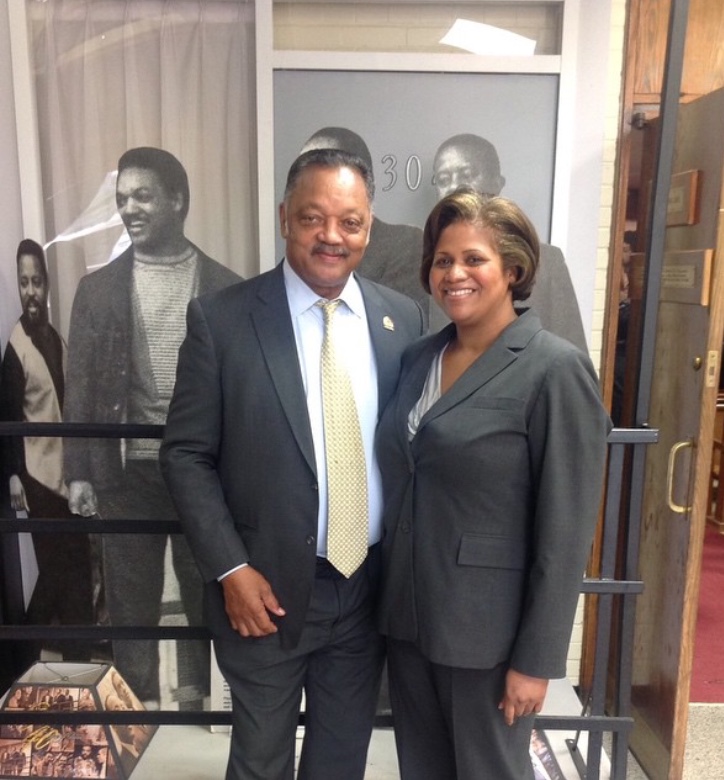 Photo source: Instagram – @nataliehowseesq
Natalie Howse is a lawyer and former Cook County Bar Association president. The CCBA is the nation's oldest association of Black lawyers and judges and was founded in 1914 in Illinois. During her tenure as CCBA president, Howse helped to create a section for LGBTQ members within the association.
Howse is graduate of Loyola University Chicago where she received her Bachelor of Arts in history with a minor in African American studies, English and anthropology. She comes from a family of highly respected legal professionals: her brother, Nathaniel Howse Jr., is an Illinois Circuit Court appellate judge; and her father, Nathaniel R. Howse Sr., was an attorney. Howse was destined to follow the path of her family as she continued her education at Howard University School of Law. She later returned to Chicago and landed a job at the Cook County State's Attorney Office in 2000.
While working at the Cook County State's Attorney Office, Howse specialized in criminal appeals, child protection and delinquency. From 2009 until 2018, she was assigned to the felony trial division where she prosecuted crimes ranging from first-degree murder to criminal sexual assault.
Howse now runs her own practice specializing in real estate. She spoke with rolling out about her unique superpower as a Black woman and the teachings of African history.
As a Black woman, what do you consider your superpower to be?  
It is the uniqueness of being Black and being a woman. Black women [can] analyze racism and sexism in a uniquely different perspective than anyone else on the planet. We [can] analyze oppression from a unique angle. People forget that Black women didn't gain the right to vote in 1870 with the Black man. The Black women did not gain the right to vote until 1920. Although Black women received the right to vote in 1920, along with White women, we were still the object of racism from our White female counterparts. So being a Black woman and being a lawyer gives me a unique perspective on many issues.
What key skill sets or qualities make you unique as an African American female leader? 
Black women have a certain level of credibility. Historically, Black women have been the backbone of the Black family. That credibility allows us to enter the workplace, boardroom or courtroom and understand that we are coming from a sincere place. Additionally, people recognize what we have contributed to society at large and are willing to listen to us and follow our leadership.
What thoughtful or encouraging piece of advice would you give to your younger self?
On any given day, it would be a different piece of advice. However, today I would tell myself to be proud of who are and take credit for the things you have accomplished. Be proud of your culture and heritage. Never let anyone try to put your culture or heritage down. We as African Americans have a rich history and legacy that did not start with slavery but started in the kingdoms of Africa.
Why is it important for women of color to lead or work in leadership roles and decision-making capacities?
Black women bring a perspective of inclusion to the table. Being Black and being a woman means that you are a double minority. So, unlike Black men, we understand what it is like to experience both racism and sexism. To that end, we understand how to widen the perspective of a group or boardroom to [ensure] that everyone is included and not excluded.
Why is it important for seasoned and experienced Black women to reach back and help younger women of color? 
To ensure that our legacy endures. If we don't help each other, our place in history will perish. That is something we [must] understand as Black people and more specifically Black women. I did not get to where I am today by myself. It is through the help and prayers of others that I am where I am today. I am standing on the shoulders of others, and more specifically, other strong Black women. To that end, if Black women want to ensure that their legacies remain intact, they have to nurture and mentor younger Black women to ensure that our communities thrive. We have to teach them our history and not shy away from our past.
How do you feel about the hashtag #CollaborationOverCompetition?
Too many of us of us have a "crab in the barrel" mentality. The belief that there are only a few slots for us and I've got to fight my other brothers and sisters to make sure I get something and that they fail. However, life is quite the opposite. There is enough of the pie to go around for all of us. If you think about what has happened in modern history, i.e., the election of President Obama, the creation of [a] Black princess of England, there are plenty of opportunities for all of us. We [must] open our minds and stop focusing on what has been and focus on what can be. We need to build relationships with others for purpose of building a stronger community. There are plenty of doors that have to be opened [and] we must help each other to open those doors.
Keep in touch with Natalie Howse on social media:
Instagram: @nataliehowseesq
Twitter: @nlhlaw