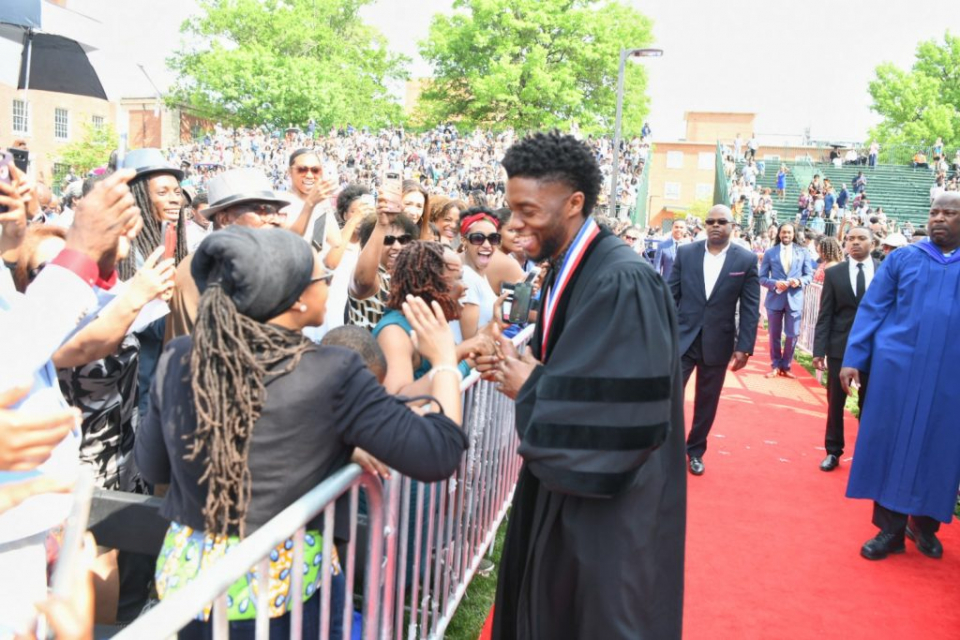 Howard University alumnus and award-winning actor Chadwick Boseman spoke to graduates about the significance of making it to the top of the Hilltop during the Howard University 2018 Commencement Convocation. In front of an audiences of more than 8,000 family and friends, Boseman encouraged the graduates to not only exceed in their next steps, but also strive to achieve their life's purpose.
"When you have reached the Hilltop and you are deciding on next steps, you would rather find purpose than a career. Purpose is an essential element of you that crosses disciplines," Boseman tells eager graduates.
10 famous Howard University alumni with Bison pride
He applauded the members of the class of 2018 for climbing up their academic slopes and making it up the Hilltop.
"The Hilltop represents the culmination of the intellectual and spiritual journey you have undergone while you were here," Boseman adds. "Each of you have had your own difficulties with The Hill, but it's okay because you made it on top. Sometimes, you need to feel the pain and sting of defeat to activate the real passion and purpose that God predestined inside of you."
A native of South Carolina, Boseman graduated from Howard University and attended the British American Dramatic Academy at Oxford University. Thereafter, Boseman began his career as an actor, director and writer. He starred as T'Challa/Black Panther in the worldwide phenomena Marvel Studios' Black Panther and Avengers: Infinity War.
How Chadwick Boseman inspired us at Howard University's graduation
Boseman's breakout performance came in 2013 when he received rave reviews for his portrayal of the legend Jackie Robinson in Warner Bros' 42. He previously starred in the title role of Open Road Films' Marshall alongside Josh Gad. The film tells the story of Thurgood Marshall, the first African American Supreme Court Justice, who graduated as valedictorian from Howard University School of Law in 1933.
This year's Commencement Convocation marks the commemoration of Howard University's 150th graduating class. Howard University President Dr. Wayne A. I. Frederick said the University's establishment represents one of the most noteworthy accomplishments in the history of American colleges and universities.
Here are more pics from the Saturday, May 12, 2018 commencement.