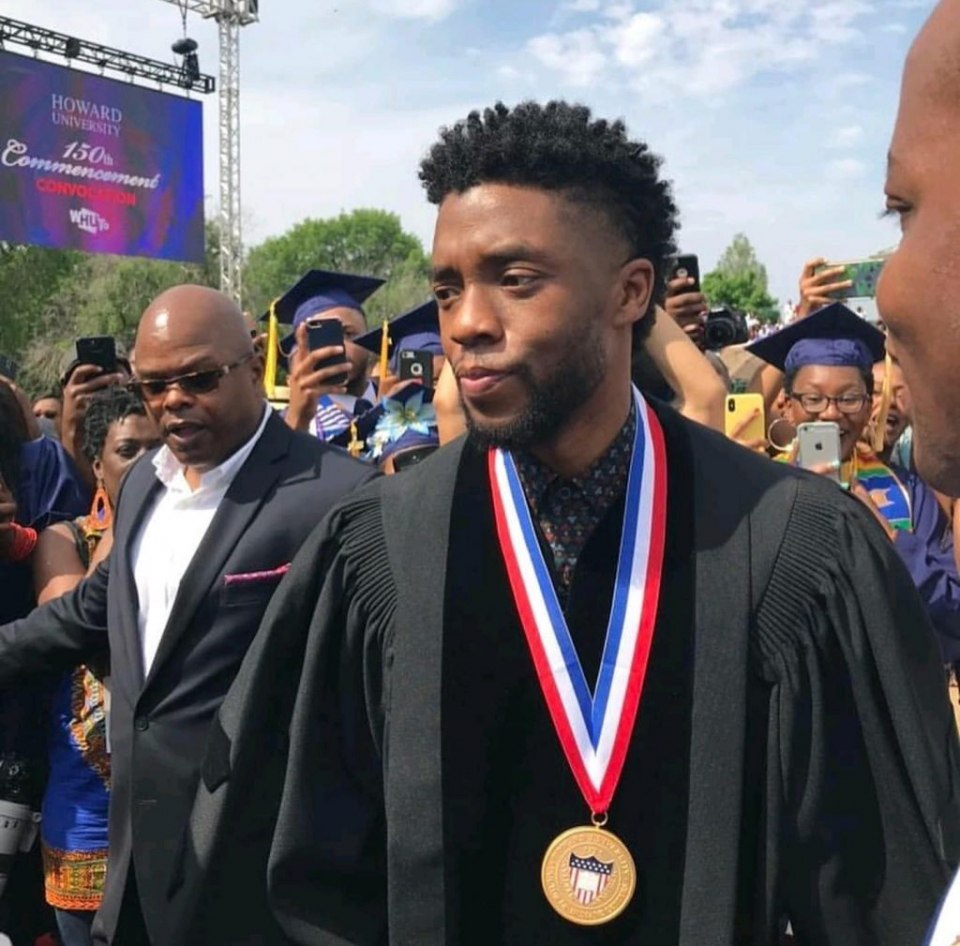 Actor Chadwick Boseman (The Black Panther) returned to his alma mater Howard University on Saturday, May 12, 2018, to give the 2018 Commencement address. Boseman who graduated from the Mecca 18 years ago has starred in several movies portraying notable Black figures: Jackie Robinson, James Brown and Thurgood Marshall, and Marvel superhero, T'Challa.
He walks to the podium with grace and pride as he begins to share his words of wisdom and encouragement for the graduating class. He begins his speech by sharing a short story about Howard University's magic, "Almost anything can happen here." He asserts the traditional Howard University call "HU" and the crowd responds "You know."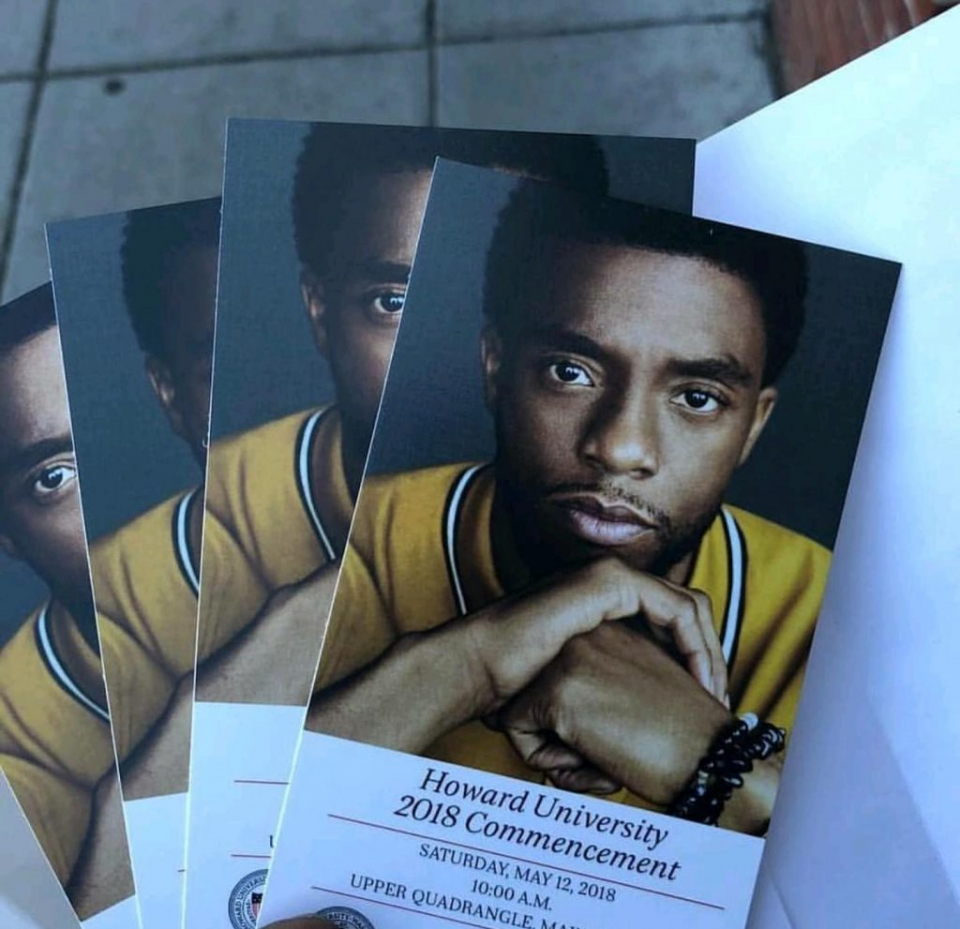 Here are five things Chadwick Boseman shared with the students during his speech.
He begins to tell a story of young Chadwick Boseman walking across Howard's campus absorbed in his own world. He lifts his head and his eyes are met by that of the great Muhammad Ali. The famous boxer raises his fists in a normal boxing stance and they have a brief exchange of a phenomenal moment before he is escorted away. "I remember walking across this yard, when Muhammad Ali was walking towards me with his hands raised in a quintessential guard. I was game to play along with him," Boseman says. "What an honor to be challenged by the G.O.A.T. I walked away floating like a butterfly…walked away light and ready to take on the world. That is the magic of this place. Almost anything can happen here."
Boseman goes on to describe unique difficulties with making it up the hill. "For some of you the challenge was academic. You worked hard. You did your best. You didn't make A's, B's, sometimes C's, never made the Dean's List, but that's okay because you're here on top of the hill." He mentions Howard's many names: Howard University, The Mecca, The Hilltop as it sits beautifully. He references the cultural significance of the way universities are built,"Throughout ancient times institutions have been built on top of hills to convey the great struggle that is required to receive degrees of enlightenment."
Understanding the excitement that comes with graduation, he urges the graduates to not be consumed by celebration and to take in the significance of what is actually going on as their degrees are conferred. "I know some of you may have partied last night, and you should celebrate. But, this moment is also a part of the celebration. So, savor the taste of your triumphs today."
He shares a story if being cast in a stereotypical role that he was uncomfortable with and spoke up about. "Many of you will leave Howard and enter systems and institutions that have a history of discrimination and marginalization." He goes on to tell the graduates that the struggles they have endured at Howard have prepared them for the real world and references how he was prepared for all of his significant roles by Howard University.
He shares a moment of reflection back on that moment he shared with Muhammad Ali. Boseman realized in that special moment, it was a transfer of power that would make him a fighter himself. Boseman highlighted that defeat may activate the purpose that God set for you. He adds, "You would rather find purpose than a job or career. Purpose crosses disciplines. Purpose is an essential element of you. It is the reason why you are on the planet at this particular time and history."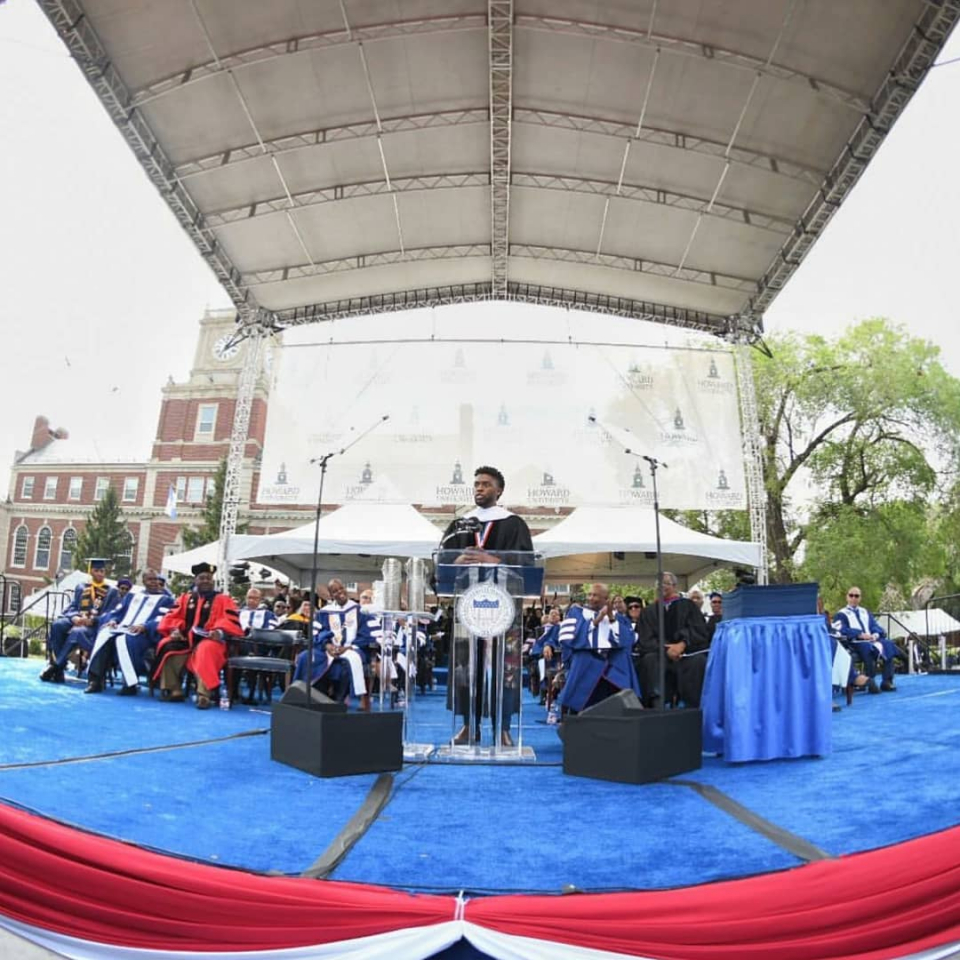 He concludes, "God Bless you, I love you Howard, Howard Forever."