Jay Z's unabashed admiration for Michael Jackson spans decades. At the beginning of his takeover of the rap genre in the late 1990s, Jay brought a frail MJ out onstage during one of his concerts to the delight of the throngs of fans.
Jay Z also renounced the 25th anniversary of the "We Are the World" blockbuster hit, which Jackson co-wrote and co-produced with Lionel Richie, and the charitable effort Lionel Richie had set up after Jackson's death. As a result, the remake of the song died instantly.
Therefore, it makes sense for Hova to use his late, legendary idol to repel claims that he has a secret son he has never acknowledged. Shawn Carter, 48, used lyrics from arguably Jackson's most famous and successful song, the Grammy-winning, multiplatinum single "Billie Jean," to tell the world that he is not the father of Rymir Satterthwaite, despite the alleged son's repeated claims to the contrary.
"Billie Jean," for those millennials who don't know, is a song about a crazed female fan who claims she slept with the former lead singer of the Jackson 5 and had his baby. Jackson sang throughout the smash hit song that "the kid is not my son."
On his new single, "Heard About Us," the Jigga Man unequivocally and categorically denies the rumors that he has another child, according to The Sun. 
In May, accuser Rymir Satterthwaite told the media of his ongoing efforts to find out if Jay is really his biological dad.
The aspiring young musician told the Sun Online,  "I don't want money or anything like that from Jay-Z.
"I just want him to finally tell the truth to the world.
"He's supposed to be a positive role model for our community — he stands there screaming 'Black Lives Matter' — well tell the truth and take responsibility.
"And if you say I'm not your son and nothing ever happened with my mum then just take the test.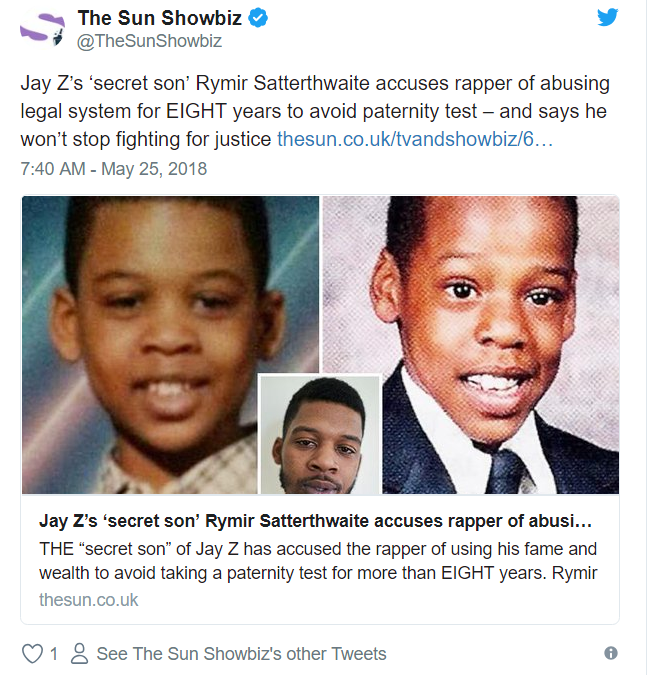 In related news, Jay and Beyoncé paused between songs to wish their twins, Sir and Rumi, a happy birthday during an On The Run II tour stop.
A fan was able to videotape Queen Bey singing a rendition of the rapper's 2009 hit "Young Forever" before walking over to a cheesing Jay-Z, and saying, "Happy birthday to Sir and Rumi. We love you," according to ABC News. 
Real Love #OTRII #Cardiff pic.twitter.com/ZINKRa6YkK

— On The Run II (@OTRIITour) June 6, 2018