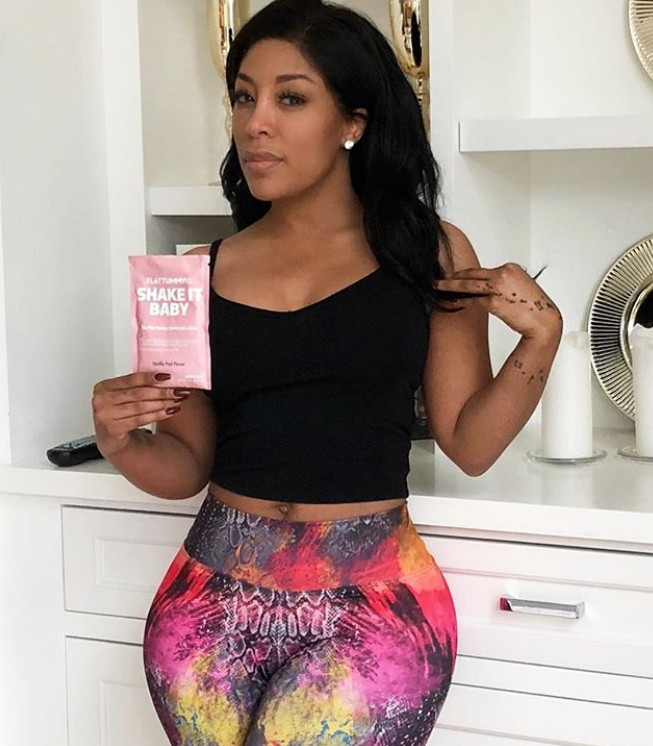 Titillating temptress K. Michelle was about to make her debut on "Love & Hip Hop Hollywood" July 23 after a self-imposed moratorium from reality shows in order to bandage up her gaping emotional and physical wounds.
K. Michelle admits she was entangled in mental turmoil for a long spell due to a sputtering music career and failed romantic relationships. And she famously underwent extensive cosmetic surgery to remove foreign particles inserted into her derriere that was designed to give her gluteus maximus the round or "onion" look that Black men allegedly crave.
But just when K. Michelle was set to appear on the West Coast version of the hit reality franchise alongside the likes of Teairra Mari, Ray J, Princess Love and Moniece Slaughter, she got ghost.
K. Michelle simply slammed on the brakes. The former "Love & Hip Hop: New York" star says she abruptly quit the show without much notice.
Why? Kimberly Michelle Pate, 34, claims that "Love & Hip Hop Hollywood" producers are sloppy and are "loose [sic] the truth" with their "reaching."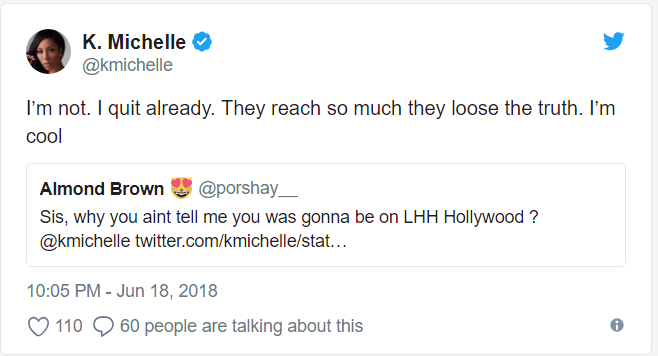 In an emphatic message to her fans, K. Michelle said she's "done" with the show, and "f— that commercial" trying to promote her reappearance using her "botched" booty "surgery" as promo.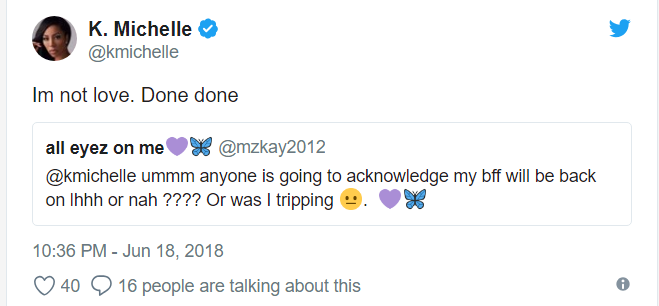 VH1 has yet to officially respond to being ambushed by this bit of surprising news.
Meanwhile, K. Michelle's reported burgeoning love life has imploded, based upon the succession of Twitter posts recently.
K. Michelle was romancing a dentist, and that would have been part of her story line on LHHH, but that seems to have gone south. Check out her tweets below: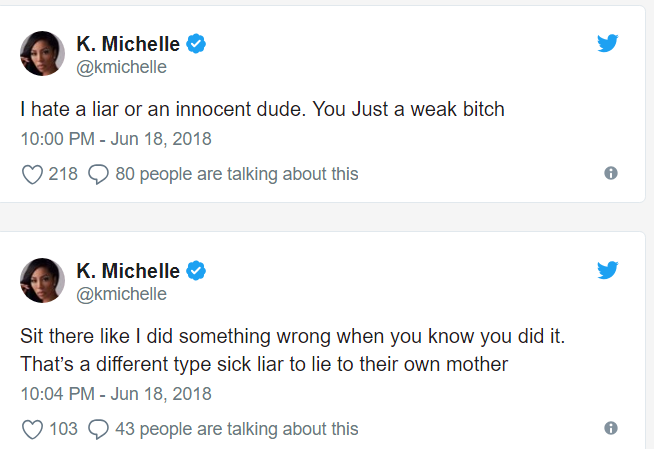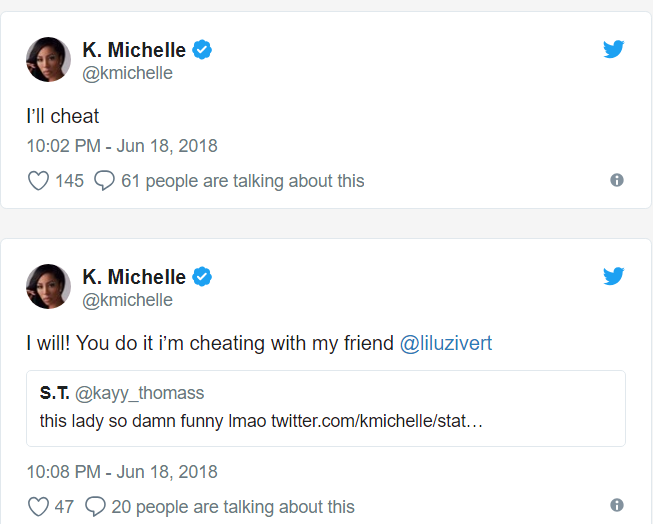 I will never become fake and play this s— with you tough Ass Gangsta. I just hate B—- DUDE PERIOD

— K. Michelle (@kmichelle) June 19, 2018
Men be so mad about some s— THEY DID🙏Whoa slow did Gym shoes. Hit play ( quit playing games boy, how soon did we forget. ILL BE in some other bed, so don't you f— with my like that) #makethissongcry

— K. Michelle (@kmichelle) June 19, 2018
Oh i'm off it. I hate a liar https://t.co/SkSsbh3P1l

— K. Michelle (@kmichelle) June 19, 2018
I hate him

— K. Michelle (@kmichelle) June 19, 2018