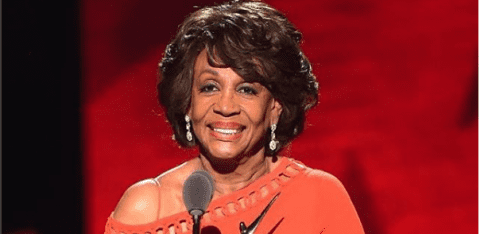 It is now open political warfare between Donald Trump and Maxine Waters.
The longtime California congresswoman, D-Los Angeles, has rankled the president's nerves yet again when she called on her supporters to harass Trump allies wherever and whenever they see them in public.
Trump, never one to resist a fight or the urge to lob insults at even the most distinguished public servants, fired back in a way that makes some believe he was threatening Waters to watch herself.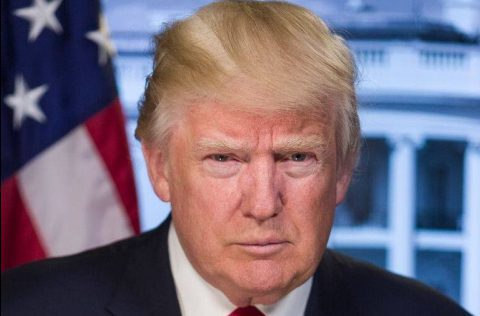 The latest sparring match between the two emanates from comments the legendary Democrat made during a rally held last weekend outside the Wilshire Federal Building in Los Angeles, where Waters implored voters to show up and show out whenever Trump administration officials appear in public.
Speaking to a throng of pro-Dems, Waters, 79, said: "Let's stay the course. Let's make sure we show up wherever we have to show up and if you see anybody from that Cabinet in a restaurant, in a department store, at a gasoline station, you get out and you create a crowd and you push back on them, and you tell them they're not welcome anymore, anywhere," according to the Daily Mail.
As supporters cheered enthusiastically, she declared: "Mr. President, we will see you every day, every hour of the day, everywhere that we are to let you know you cannot get away with this!"
Waters' decree stemmed from the inhumane treatment of undocumented immigrants by the Trump administration, which continues to separate parents from their traumatized children at the U.S.-Mexico border.
So far, very few within the Republican Party have demonstrated the necessary valor to tell the White House that ripping infants from their mothers' arms is evil.
Waters also had choice words for them during her weekend rally, The Daily Mail reported. "For these members of [Trump's] Cabinet who remain and try to defend him, they're not going to be able to go to a restaurant. They're not going to be able to stop at a gas station. They're not going to be able to shop at a department store. The people are going to turn on them. They're going to protest. They're going to absolutely harass them until they decide that they're going to tell the president, 'No, I can't hang with you — this is wrong, this is unconscionable, and we can't keep doing this to children.'"
Trump responded, as most knew he would, with a statement on his Twitter account that some political pundits view as a veiled threat to Waters to back off.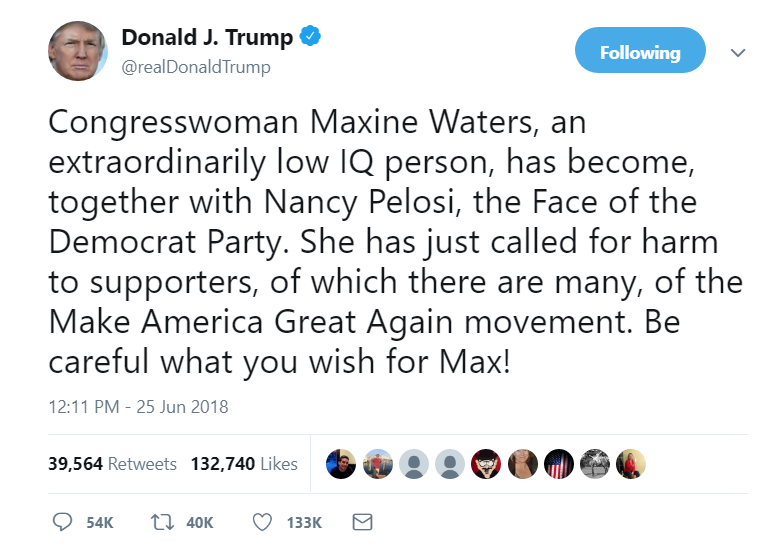 To be clear, some within the Democratic Party are not standing with Waters in how she came at the president, saying the impassioned congresswoman's rhetoric has gone too far.  According to the Daily Beast, U.S. Sen. Chuck Schumer, D-N.Y., said Waters' stance  was "not right" and "not American."
Do you believe Waters was right or wrong in how she went after the president on this issue?