Veteran actress Vivica A. Fox (Kill Bill) has gotten into it with another personality affiliated with the hit reality show "Real Housewives of Atlanta."
Terminated RHOA cast member Phaedra Parks, 44, was seen hugged up with "Power" producer Curtis Jackson, 42, at the season 5 red carpet party. Fifty dated Vivica for several years before ending their relationship with bitter barbs.
The other day, 50 Cent and Parks were both cheesing into the camera—and she seems enamored with the rapper, to boot.
"Everybody knows his strap will have you sprung for 20 years and ain't nobody got time for that!!! …But he smells amazing and is plum fine, so keep him in your top 3 fantasy roster," she penned on Instagram.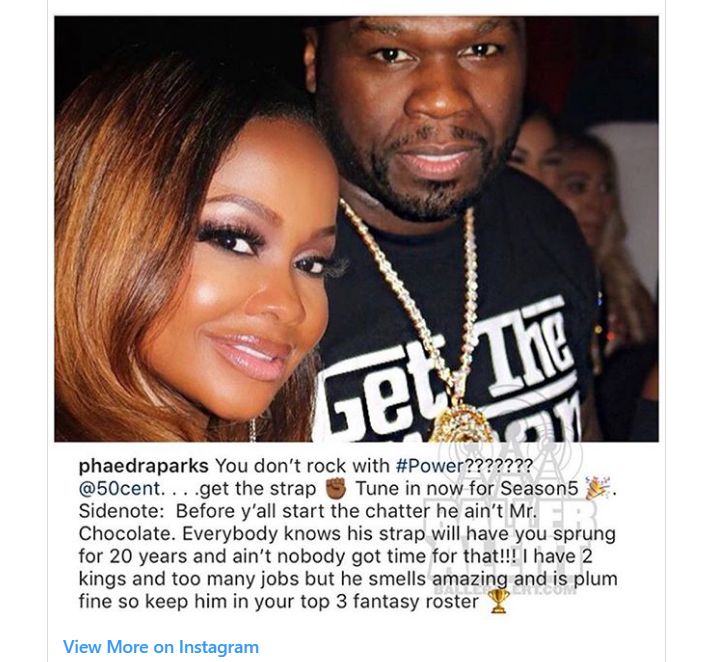 Fox, 53, who starred in Independence Day, Set it Off and Two Can Play That Game, initially chose to ignore the spectacle. But when Parks sent her an actual text message trying to explain that she wasn't trying to shade her, Fox went volcanic on the entertainment attorney.
Posting a screenshot of the reality star's text message on her Instagram, Vivica wrote in the caption, "..When u have to break out dem receipts on another TOXIC TRICK! THE NERVE TO TEXT ME!? GURL BYE I SEE YOU! I ain't new to this I'm true to THIS! #RealTalk Opens a New Window. #BossMoves Opens a New Window. #TeamVivica Opens a New Window. #TeamFox Opens a New Window. #LegitimateCareer Opens a New Window. #ClassicBadChick Opens a New Window. #GetAJob
What do you make of this latest dust up?