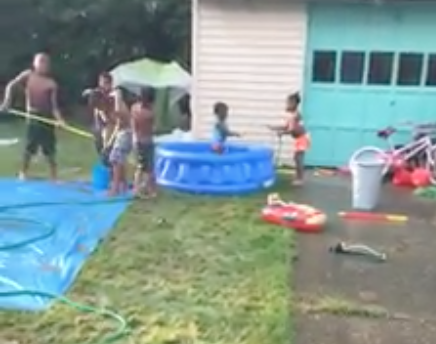 For the second time in less than two weeks, a White couple in Maple Heights, Ohio, has called the police on Black kids for simply existing. The first time Randy and Linda Krakora called the police on June 23, they were upset that 12-year-old Reggie Fields cut a small portion of their grass by mistake.
Fields, an aspiring businessman, decided to cut grass for the summer to earn extra income. However, the Krakora couple attempted to criminalize his endeavors by calling the police on the boy for working.
The video of the ordeal, posted by Lucille Holt-Colden, went viral and garnered nearly 700K views. Fields and his friends were working for about 30 minutes when the police arrived, according to Holt-Colden who shared her thoughts on the video which lasts about three minutes.
The police were able to resolve the issue and the kids continued to work. However, the Krakora family called the police on the Black kids again.
This time, it was during the July 4 holiday. To celebrate Independence Day, Holt-Colden decided to throw a BBQ and invited Fields and other kids to the cookout. The Krakoras called the police because the Black kids were playing on a Slip N' Slide and water got on their house.
Holt-Colden shared her thoughts on another Facebook Live video by saying, "Somebody, anybody, better do something about this. Police [are] being called because the kids are playing in water. Maple Heights Police, you ain't got nothing else better to do, do you?! Mayor, what you gon' do?! Maple Heights chief of police, what you gon' do?"
The Krakoras have a history of calling the police for issues that are non-threatening. According to Mic, Randy and Linda Krakora have called the police 60 times in 18 years.
The issue is indicative of the national problem of racial profiling. Some Whites call the police on Black people for simply occupying a space. Within the last 60 days, White people from across the nation have called the police on Black people for sleeping at an Ivy League school; cooking BBQ in a park; selling water; laughing at a swimming pool; and cutting grass, just to name a few.
This kind of Racial profiling should be viewed as a criminal offense because it is a waste of time and resources and it's a form of harassment. But the Krakoras and others who are guilty of racial profiling will not change unless their are severe repercussions for their actions.