Donald Trump snaps back at LeBron James and CNN's Don Lemon's criticisms
Looks like President Donald Trump is all in his feelings after being severely rebuked by basketball superstar and humanitarian LeBron James and CNN's Don Lemon this past week for his demagoguery and divisive politics.
LeBron, as he is most often called, has received universal praise for opening a state-of-the-art school for troubled students in his hometown of Akron, Ohio. The school is a mere 30-minute drive from downtown Cleveland, where LeBron performed his b-ball theatrics for most of his 15-year career.
This past week, King James, 33, vehemently rebuked Trump, 72, during a sit-down interview with Lemon, 52, saying that he believed that Trump was deliberately using sports to drive a wedge between cultures in America. Before Trump came along, Lebron said, sports was a bastion of inclusiveness and the one arena that brought people together. But Trump used former NFL quarterback Colin Kaepernick's national anthem protest as a political football to whip up racial animus among his rabidly right-wing base.
When Trump was called out by LeBron and Lemon on Twitter, the 45th president's response was as petty as it was laughable: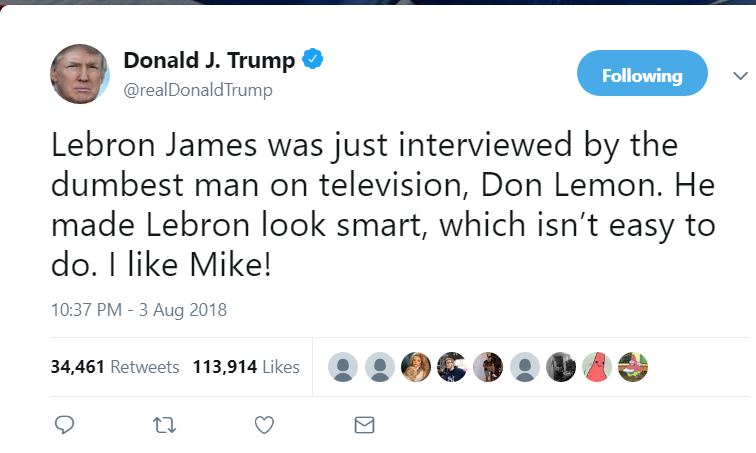 Trump even went so far as to add that he prefers basketball great Michael Jordan over Lebron.
Of course, Trump made no mention of Lebron's school or the athlete's continuous contributions to his community. And, in the process, Trump actually proved LeBron and Lemon right in what they said about him.
What do you make of Trump's clap back at LeBron and Lemon?