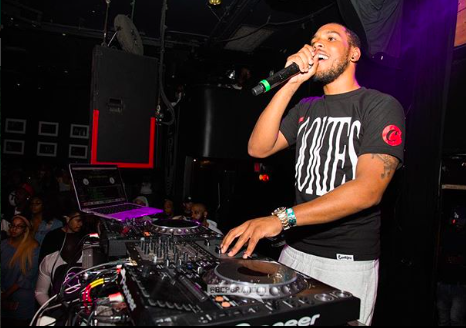 DJ Lavish Lee is known as the modern pacesetter for urban DJs.
Born Marcus Murray, the 28-year-old grew up in the Dyckman housing project in Manhattan's Inwood neighborhood in New York before moving at a young age with his mother to Atlanta. His talents and growing passion for music at Maynard H. Jackson High School earned him a band scholarship to a college in South Carolina, but because of financial circumstances, he had to leave school and move back to Atlanta. Since 2009, he has been constantly perfecting his craft and building a network of clients, all while being the official DJ for well-known rap artist YFN Lucci.
How did you get to where you are today?
Grinding. Before I was actually DJing, I used to be a lifeguard at the Boys & Girls Club, but I also started DJing in high school. Some Atlanta artists, such as Jose Guapo and Trouble, we all went to the same high school. I used to make mix CDs and play them at the basketball games at our school. To see the crowd go crazy [listening to] my CDs, I was like, "Oh yeah. I can do this."
 Was DJing something that was taught to you or self-taught?
DJing is something that I just picked up and learned. I didn't go to school for it. I have a love for music. My passion is music. I used to play the drums when I was young. I used to be in the band. All that in one pot turned me into a DJ.
Was higher education an option for you when graduating from high school?
I actually had a band scholarship to go to South Carolina State University and went for a semester and didn't finish because it was too much. I came back to Atlanta just to pursue my dreams and try to make something of myself. I started lifeguarding again at the Boys & Girls Club and eventually got into DJing there. That's when it really all started.
What was your first piece of equipment as a DJ?
My first piece of equipment was a computer, and then I got a mixer. In the DJ world, you don't need turntables; you just use the computer screen. I was a DJ, but I felt like I wasn't at my best because I didn't have all the actual equipment — but I made it work. DJ equipment is expensive, so I gradually bought one piece at a time until I had a whole set.
As a DJ, how do you keep the crowd engaged?
It's just all about reading the crowd. If you have a crowd full of females, I'm not going to play gangster or street music. You have to be able to read the crowd as a DJ because, if you don't, you're going to mess up the vibe. You have to secure the vibe.
Have you ever had a bad DJ set?
At times I've felt like I've had a bad DJ set only because I critique myself. No one has ever told me I was just trash, but you can see if you're doing a good job or not by the crowd. If you have people on their phones and their heads down, then I know I have to change it up.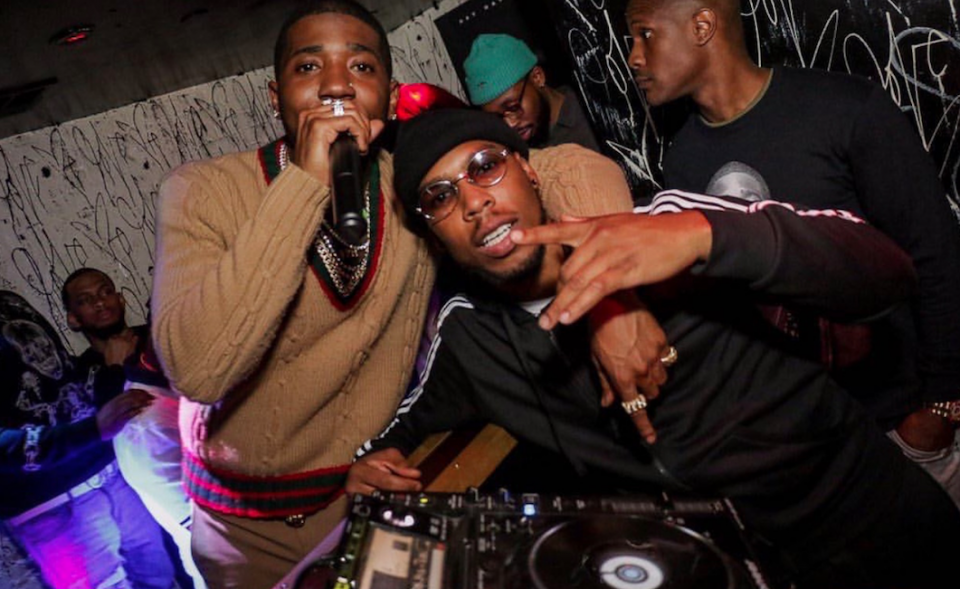 How did you become YFN Lucci's official DJ?
Lucci is a childhood friend. I've been knowing him since the fifth grade. Before the music, that was my homie from the 'hood. When I moved to Atlanta, [the] Summerhill [neighborhood] adopted me, and that's where he's from. While I was in college, he used to always send me music, and we always stayed connected. When I came back to Atlanta, he sent me one song, "Drop Em All," and it was a real studio-quality song. That was one of his first studio situations. I started paying attention to his potential. From there we used to go to the studio more, and we knew we were on to something.
"I Wonder Why" was leaked shortly after that. When that song started going crazy, he started having a crazy buzz. From there, it was time to do it. He told me he needed a DJ and asked if I was going to do it, and of course, I said yeah.
How has technology changed over the years in relation to DJing?
With technology, it's something that is constantly evolving. I just had a problem the other day where we had a show and the DJ had a new board. I didn't have that board yet because it just came out. He was already on it, but I wasn't on it, so I had to download the software, restart my computer and all that. I just have to stay ahead of the game because technology is something that changes often.
Would you say the constant change in technology is a good thing or a bad thing?
Change is always good. Some DJs didn't like the change when Serato came [out], which is an industry standard program for all DJs. Before Serato, it was just CDs. Serato is the technology that created MP3 files and made it to where everything can go on your computer. You don't have to carry anything anymore except your computer. The change was for the better.
Where do you see yourself years from now?
Bigger, better, rich and a businessman. I want to use my brand as DJ Lavish Lee and do different things with it by using my platform. I want to start a nonprofit organization for kids, [film] a documentary highlighting my life, and collaborate with many companies in building my brand. I'm just going to keep working.
Has there ever been a time where you became unfocused as a DJ?
All the time. In the entertainment world, this is all still new to me. DJing for artists comes with a lot of attention. It's a lot of things that I've never done or experienced. Flying on a jet, going out of the country, shows back to back, all that. You have to actually be in this field to understand it all.
 What's something you fear as a DJ?
The equipment messing up. The moment the equipment messes up, it's, "Shoot the DJ!" Even Luc may look at me like, "What you doing, bruh?" It wouldn't even be my fault, but I can't explain that to thousands of people. Sometimes I have to make a public-service announcement during the shows and let everyone know that it's not my fault. But once it's up and running, I just turn up.
What makes a good DJ?
To me, one of the things is properly engaging with the crowd. You have to know how to improvise with the crowd, especially when the equipment isn't working correctly without anyone noticing there is an issue. You always have to know the equipment. You have to be a mechanical DJ, too. Many people think DJs just go and play music, but it's a lot more to it than that.
What are three things that you would tell someone who wants to break into the DJ Industry?
Don't be scared of opportunities.
Grind.
Stay focused.