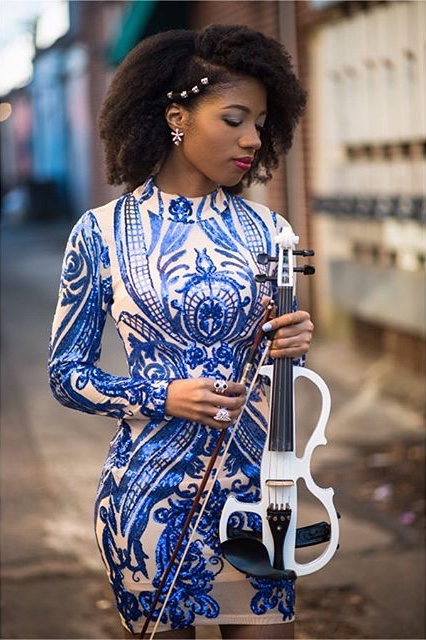 Name: Joy Black
Instrument: Electric violin
City: Atlanta, Ga.
Style/Genre: Classical, Hip-Hop, Pop, Arabic
Rolling out recently spoke with electric violinist Joy Black about her love of hip-hop and classical music and the exciting and eclectic ways she melds multiple musical genres to create her unique sound.
First, how did it all start for you? 
It all started for me when I had a dream in 8th grade that I was on stage in front of thousands of people playing the violin. I acted upon that dream and began to play my ninth-grade year in high school. Ever since then, I fell in love with the violin and never wanted to put it down. I just love how playing it makes me feel and others feel.
Who is your biggest inspiration? Who do you have a lot of respect for? 
The violinist that I find most inspiring to me is Vanessa Mae. Vanessa Mae is inspiring to me because she was one of the first solo violinists to be seen as a pop star and broke the standards that not every violinist is meant to be in an orchestra.
Are you able to share any of your secret tricks with us? 
I could teach you how to dance and play violin at the same time. It's harder than it looks. I can also teach you how to play a song or two.
What's one musical experience that changed your life? 
My biggest musical experience would be when I learned how to become comfortable on stage and zone out while playing. It took me a long time to master being truly comfortable on stage and not feeling any butterflies in my stomach. There is no better feeling than zoning out on stage, and the audience feels connected to how I'm feeling as well.
How do you create the perfect musical experience?
I create the perfect musical experience through either performing or producing by making sure that I practice for at least 30 minutes to an hour a day if I have the time. I also strive to be original, different, creative. I'm always thinking outside of the box of ways to give the listener a new experience that they will never forget.
Name your favorite artist or song you like to play or mix? 
I love playing "Un-thinkable" by Alicia Keys. It's such a pretty song to play. Every time I perform it, the audience sings along.
Click here to see her perform.