There are a variety of ways couples choose to spice up their love life including what is known as "rope play" or bondage. Couples into this form of action need to be informed because it's more than just tying up your lover's wrists during a bedroom romp. There are serious safety concerns that must be addressed and at the Sex Down South Conference held in Atlanta, "Rigger" and "Rope Master" Jon Gunnar explained it all as he moderated the workshop.
Gunnar is a well-known expert located in New Orleans who has taught hundreds the intricacies of not only proper rope play but also the types of rope to be used. The workshop was packed with participants and when Gunnar asked how many people have been tied up or tied someone up, almost everyone in the room raised their hands. First, he explained do not buy your rope at Home Depot, a beginner's mistake.
Gunnar explained that for comfort and safety sake, he prefers and uses two types of rope. The first of which is a coarse type that has no give called "Jute" and the second is made of hemp and is a little more forgiving. Both types are conditioned with jojoba oil and sandalwood oils to make the strands more compliant and comfortable for the person being tied up.
– Check for the comfort of your partner.
– Do not do heavy drugs when engaging in rope play.
– Never leave the room while your partner is bound.
– If you notice your partner's hands are skin getting clammy, immediately end the scene and do not hesitate to cut the ropes. He explained that things can change in an instant and cutting $100 of rope should not be a factor in risking your partner's safety.
– Never use a rope on your partner's neck because it can lead to death.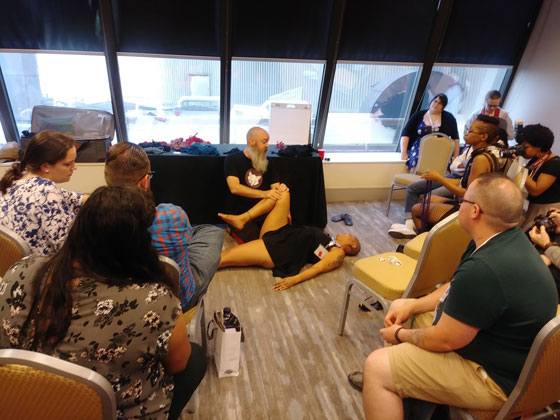 Gunnar then demonstrated to the crowd what is known as a two-column wrist bind and everyone in the room paired off to give it a try. He then explained how the two-column wrist bind could be expanded to other knots and bindings. One participant eagerly volunteered to be the test subject and she soon found herself on her back with her hands bound to knees within minutes, surprising and delighting the audience.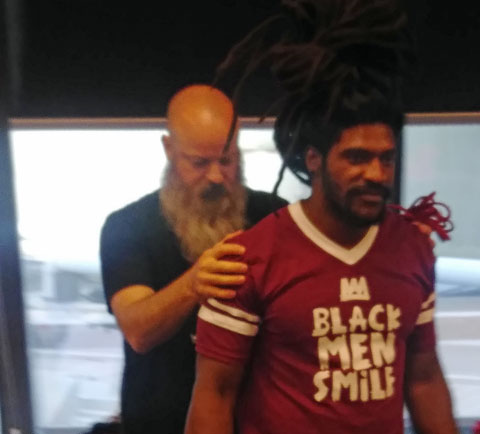 As Gunnar progressed through his talks, he came to the subject of what is known as a chest or breast bind. While women in the audience jumped at the chance to be the test subject, Devon, from the organization Black Men Smile, was adamant that he wanted to be bound. Despite cries from many women in the room that they wanted it to be demonstrated on them, Gunnar obliged Devon and he was happily bound. To each his own.