It is apropos that October has arrived because this next claim sounds like it is coming from a Halloween horror story and it's freaking people out.
Tupac Shakur, easily one of the best and most beloved rappers of all time, is alive and well and living on an island nation. This outlandish claim is coming from the son of the notorious Suge Knight, who was just imprisoned for 28 years for first-degree manslaughter.
Suge Knight Jr. has gotten people spooked with so-called "evidence" that shows the late "Me Against the World" rapper was not murdered in Las Vegas on Sept. 7, 1996, at age 24.
The son of imprisoned former Death Row Records CEO says 2Pac has been living in Malaysia.
Knight began with a simple post saying "TUPAC IS ALIVE", causing questions from folks.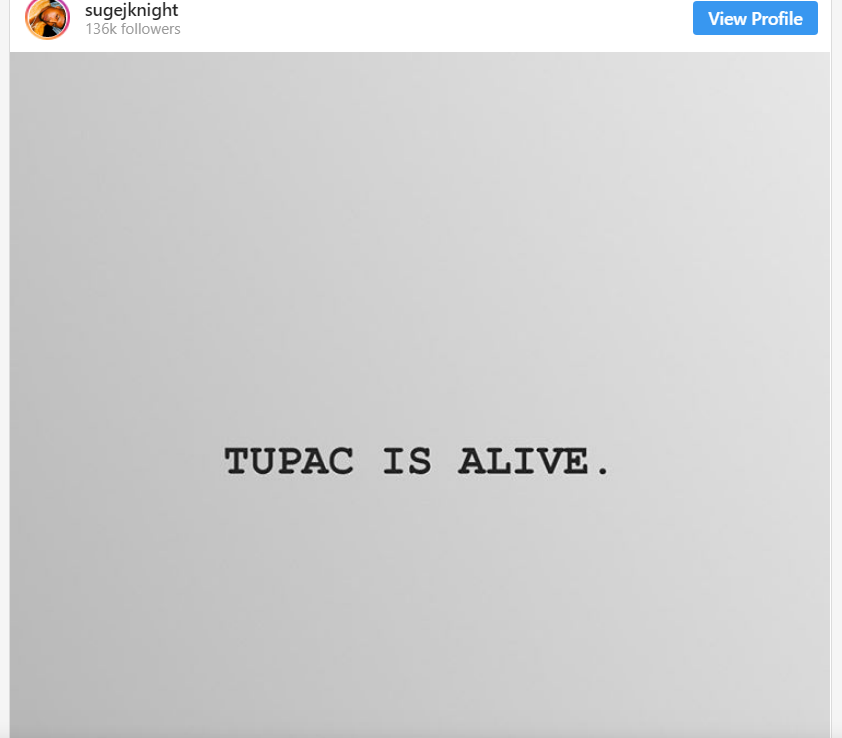 Adding to the hysteria is the man in the video Knight Jr. posted has a remarkable resemblance to the legendary Shakur, so people are really freaking out on another level.
Some people believe Knight Jr. has concocted all of this just to gain some undeserved attention and try to parlay some of Tupac's shine to come up. Remember, Knight Jr. spoke to "TMZ Live: On Air" recently trying to convince the public that his father was being railroaded, but he spent a good portion of the time promoting his own music career.
Others, conversely, were already convinced that Tupac never died, so they are in agreement with Knight Jr. on the conspiracy theories.
Knight Jr. has also forwarded claims he's being "followed" for posting the "evidence."
Flip the page to check out the videos of Suge Knight Jr. and the alleged "Tupac" living in Malaysia.