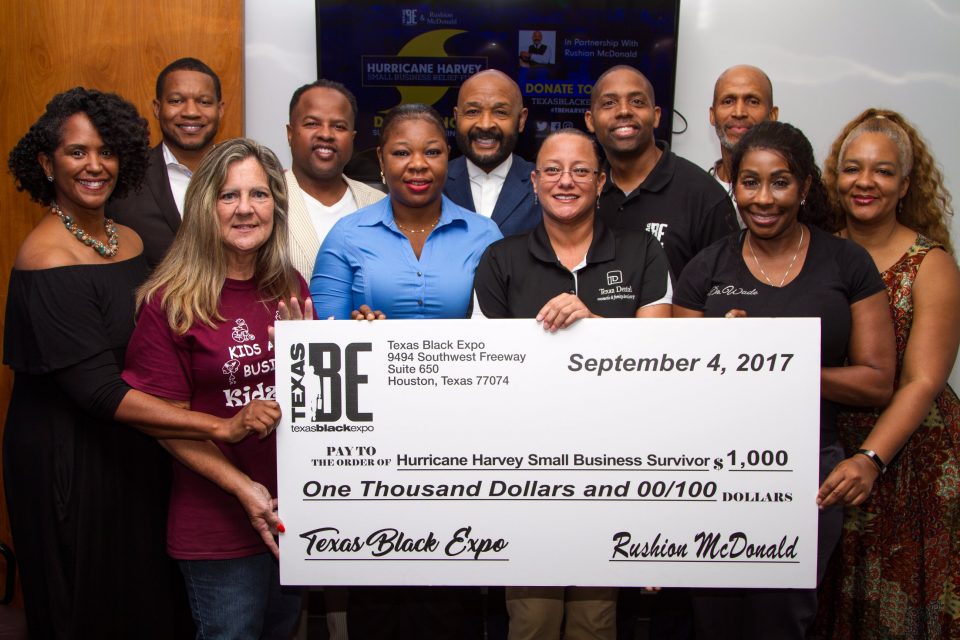 In August 2017, Hurricane Harvey — considered one of the costliest storms in U.S. history — devastated the Texas Gulf Coast.
More than a year after the disaster, many small businesses in Houston and the surrounding area damaged by the storm are still struggling to rebuild.
In the Houston area, the Texas Black Expo is bringing together a powerful group of strategic partners to assist these small businesses on the road to recovery. Founded in 2007, the nonprofit organization has been working to foster business growth and development, educate and expose youths to the world of entrepreneurship, and provide events designed to inform and economically empower the local community.
In October and November, Texas Black Expo will be hosting two "Take Action Now" events to offer free financial assistance to businesses affected by Hurricane Harvey. The events are sponsored by LiftFund, a nonprofit, multistate microfinance company and small business lender that helps entrepreneurs start, stabilize and grow their companies. Qualified applicants whose businesses were damaged during Hurricane Harvey can receive up to $35,000 in the form of zero-interest loans to help rebuild. 
"In helping Texas small businesses, the Texas Small Business Rebuild Initiative is having a far greater impact in the total recovery of the areas devastated by Harvey. It is rebuilding local communities, one small business at a time," said Richard Gianni, LiftFund's senior executive vice president in charge of microlending.
"Our goal is to help small businesses of all types continue on the road to recovery with working capital so they can achieve their goals," Gianni said. "It is rebuilding local communities one small business at a time."
The first event on Saturday, Oct. 13, will be hosted by Texas State Rep. Shawn Thierry. Thierry will speak on the importance of supporting and sustaining small business owners.
"I believe small businesses are the economic engines of our communities. The "Take Action Now" event, through the support of Lift Fund, will provide another powerful readout sure to help small business owners recover and rebuild after the devastation of Hurricane Harvey."
Jerome Love, founder and president of Texas Black Expo, says most small businesses fail because of a lack of access to capital. Texas Black Expo is committed to helping businesses struggling to find the funding they need not only to get back on their feet but also to grow, develop and flourish after the devastation of Hurricane Harvey.
Even businesses that were outside the flood zone are struggling and need help, he said. "When you can't open your doors for a few weeks, you're struggling. You have bills to pay. It's a trickle-down effect of catastrophic proportions that many people don't consider when they look at the effects of a storm," Love explained. "They think if you don't get flooded then you're OK, but that's just not the case."
Houston City Council member Amanda Edwards will host the second "Take Action Now" event on Nov. 1. She said she plans to address ways to break down barriers to gaining access to capital and facilitating that access, as well as how to help businesses scale up.
"If our businesses aren't doing well, then our cities are not doing well. We've got to make sure we're addressing that," Edwards said.
"Houston is the most diverse city in the country, and I want to help make Houston the place where we help solve some of the challenges facing diverse communities in business.  I'm excited to make some headway [with "Take Action Now"] for Houston and other places trying to solve a problem in a manner that is both forward-looking and that addresses a current circumstance as well."
To learn more about "Take Action Now" or to register, visit www.texasblackexpo.com.