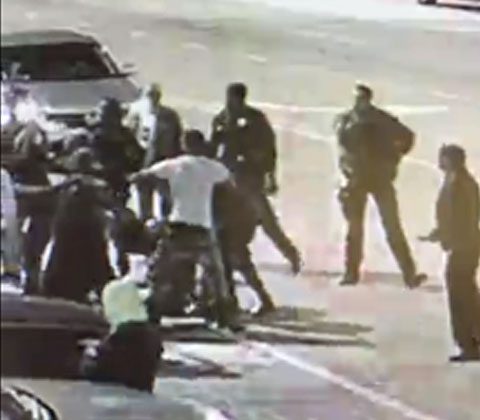 Security camera footage captured a violent street brawl between off-duty Atlanta Police Department officers working a security job at a popular Atlanta night spot.
On Saturday, Oct. 20, 2018, a fight broke out as rowdy patrons were asked to leave Boogalou Restaurant & Lounge in the Midtown section of Atlanta.
The scene was captured by security cameras at a business adjacent to the club as the fight spilled out into the street. In the video, APD officers can be seen throwing punches and at least one officer appears to draw his weapon and then re-holster it as he begins using his fists.
According to Kasey Mozee, owner of Boogalou, the fight was started by active-duty military personnel who were asked to leave the club. Mozee states it was the patrons who threw the first punch.
Rolling out obtained video footage of the incident and sent it to Carlos Campos, director of APD's public affairs department, for comment. In response, Campos issued the following statement:
"On 10-21-2018, at around 1:40 a.m., officers working an extra job at 239 Ponce De Leon Ave. in northeast Atlanta noticed an altercation near the front of this location.  Preliminary information indicates security was asking a group of people to leave after they had caused a disturbance inside the establishment.
"The group was uncooperative and a physical altercation ensued. Officers requested assistance and began attempting to break up the melee and apprehend those engaged in assaulting security and the business owner.  The group was physically violent toward officers, and security and officers had to use force to end the assaults.
"Once the altercation was ended, EMS was requested to treat several victims, officers and arrestees, for minor injuries.  Officers took a total of four people into custody.
"Our Office of Professional Standards was made aware of this incident and is reviewing the video to determine if the level of force shown in the video was appropriate. The Zone 5 commander, meanwhile, is aware of concerns expressed by nearby neighbors about the club and has been working with them in an effort to address the issues that have been raised."
According to Campos, the following four people were arrested and charged with simple assault in the incident: Anthony Bryant, 34; Carlos Donzell Lott Jr., 27; Damian Grace, 28; Katrina Nicole Burch, 21.
The video of the fight obtained by rolling out can be seen below: