Superstar Will Smith clowned over 'Aladdin' movie look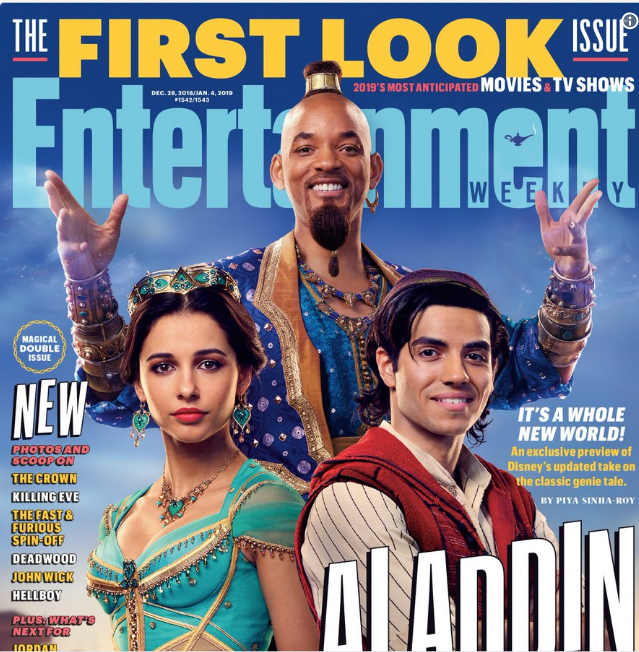 Will Smith is one of the greatest box office attractions in the history of the American motion picture business. His place among the pantheon of cinematic legends is cemented permanently.
But his enviable perch as a Hollywood heavyweight was far from sufficient enough to insulate him from the social media beatdown he is enduring after the cover photo for his upcoming movie Aladdin was released to the public.
After the Entertainment Weekly cover shot was released to the public, the star of blockbuster movies such as Men in Black, Independence Day, Pursuit of Happyness, I, Robot, Enemy of the State and Hitch among others, seemed jubilant:
We can show you the world… of Disney's live-action #Aladdin! Get a shining, shimmering, splendid first look at the reimagined classic in our magical First Look issue: https://t.co/Kwkcdfen5v pic.twitter.com/7NbyiRRcLH

— Entertainment Weekly (@EW) December 19, 2018
"BAM!! First look at the Genie 🧞‍♂️, Princess Jasmine, and #Aladdin! Check Me Rockin' the Top Knot Ponytail Vibes in @entertainmentweekly 😆 (and yes, I'm gonna be BLUE! 🙂 This is how the Genie is in Human / Disguise Form. My character will be CGI most of the movie.)"
Social media had another, radically different, take on Smith's look.
What could Will Smith possibly have done to deserve this? Jada is gonna have to do a whole episode of "Read Table Talk" about this hair piece. pic.twitter.com/wMm5fysIg0

— Saeed Jones (@theferocity) December 19, 2018
Why is everyone saying Will Smith is doing a live action Genie from Aladdin when he's clearly playing a live action Shazzan? pic.twitter.com/g83VHGV0lZ

— Benari Poulten (@BenariLee) December 19, 2018
My face when I see pics of the live action #Aladdin Thought we'd see a cgi genie and have will Smith's voice but seeing this. That's gonna be a hard NO from me seeing this chief! pic.twitter.com/LMx9XS1fRL

— O (@Phatpun87) December 19, 2018
Will Smith as Genie pic.twitter.com/KhiocIu2DW

— Don Fonso 🇹🇹🇻🇪 (@fonzfranc) December 19, 2018
Now, this is a story all about how
My life got flipped-turned upside down
And I'd like to take a minute
Just sit right there
I'll tell you how I became the genie of a town called Agrabah pic.twitter.com/WZizYN4t3n

— Igor Pontes ポンテス (@pontes_igor) December 19, 2018
will smith's genie in aladdin got the goro hairdo from mortal kombat pic.twitter.com/itb0DLgTAN

— Marlow Stern (@MarlowNYC) December 19, 2018
10 years from now Will gonna talk trash how bad Genie looked after he makes his millions lol

— Chill Smith (@_DRAREG) December 19, 2018
What do you think of Smith's Aladdin character? Share your thoughts below.