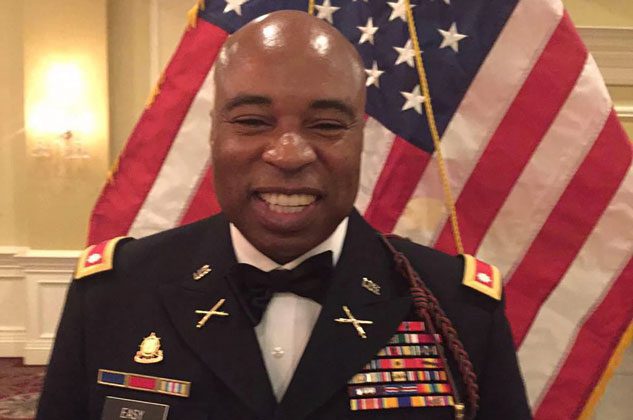 A family is grieving and has questions for China after their loved one died on an inbound flight during a business trip. Lt. Col. Norman Easy was a retired member of the National Guard and was found dead in his seat on a flight to China on Dec. 7, 2018. But the family did not receive his body from the Chinese government until Saturday, Dec. 29, 2018. Now the family wants answers and the Chinese government wants them to remain silent.
Easy was a decorated combat veteran, having served two tours of duty in Iraq. He was the commander of the 369th Sustainment Brigade, which was formally known as the "Harlem Hell Fighters" during World War 1. During his retirement, he became an executive at  Siemens Healthineers USA and was on the verge of closing a groundbreaking deal for the company in China according to the NY Post.  His family grew concerned when they did not receive a call from him when his flight had landed. His son told the Post that an airport official stated that someone had died in flight and that the person matched his father's description.
But it has taken almost three weeks for Easy's body to make it back to the United States to his family in Freeport, New York. According to the family, the Chinese government only released the body after the family signed a waiver to not challenge any details in the official Chinese police report. The family also had to hire a security company to retrieve and transport the body back to the United States. Both the airline and the Chinese consulate gave conflicting times of Easy's death from three hours before landing to 30 minutes. In a statement,  China Eastern Airlines says that Easy "was found unconscious in his seat before the flight arrived in Shanghai. The crew and doctors worked hard to rescue him but failed in the end. … Additional information is subject to the police investigation."
Nixtia Easy told Newsday that the family intends to have an autopsy performed on her husband, and that his funeral is set for Jan. 4, 2019, but the additional cost of an autopsy will be a financial burden. "Right now, we are just concentrating on his being home and trying to figure out how we will have to pay out of pocket for the autopsy, it's $5,000," she said.