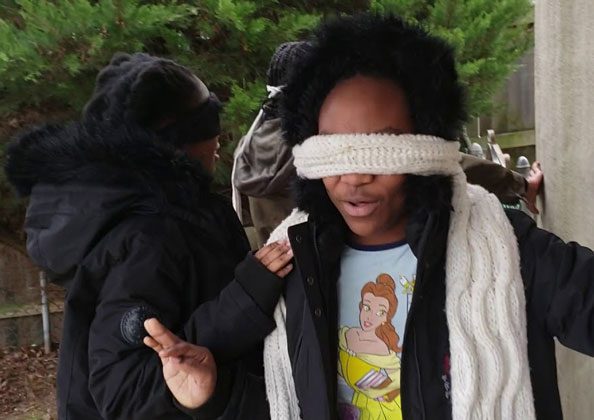 Netflix has a verifiable hit with their latest movie, "Bird Box." In just a few days of its online premiere, more than 45 million people watched the suspense-horror show. Despite its success, Netflix has issued a warning to fans over extreme behavior in copying a vital part of the movie. These actions are the latest social media craze called the Bird Box Challenge.
Because of a demonic force that drives people insane if seen, characters in the movie must wear blindfolds while outside. In numerous scenes, a mother leads her small children through various hazards in silence, seeking safety. Fans are posting images and videos of themselves and in some cases, small children walking blindfolded, possibly endangering their lives. The Bird Box Challenge has now gone viral and Netflix is concerned.
Netflix used Twitter to post the following message:
Can't believe I have to say this, but: PLEASE DO NOT HURT YOURSELVES WITH THIS BIRD BOX CHALLENGE. We don't know how this started, and we appreciate the love, but Boy and Girl have just one wish for 2019 and it is that you not end up in the hospital due to memes.

— Netflix US (@netflix) January 2, 2019
Here are a few social media postings of everyday folks doing the Bird Box challenge and in at least one case, driving.
https://www.youtube.com/watch?v=ryr9UZaz6tA
Bird Box Challenge #Netflix #BirdBox pic.twitter.com/wVY2wFraWj

— Laugh With Larante (@LaranteNoble) December 26, 2018
Y'all doing this #Birdbox Challenge? pic.twitter.com/Yjx86Ex55f

— FireMadeFlesh (@FleshFire) December 27, 2018
#Birdbox challenge 💀💀💀 pic.twitter.com/2p0duqam0e

— Ja〽️aR🎄 (@JMaLicous4U) December 30, 2018