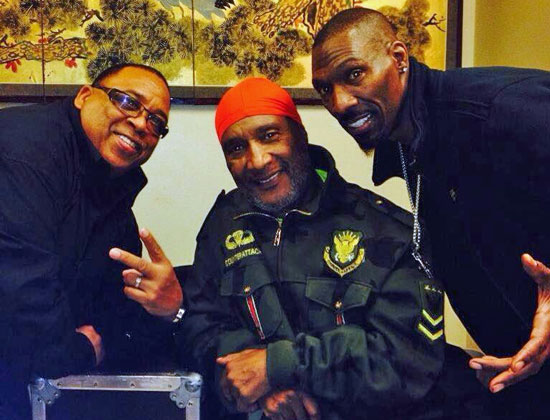 Today's Black comedy scene is large and thriving, but few people know the big names behind the scenes who are the first to spot young talent. One of those well-known talent management veterans is Rick Sullivan. He is one of the most sought after consultants for comedy production. He has worked with Russell Simon's "Def Comedy Jam,"  BET's "Comic View" and Jamie Foxx's "Laffapalooza" on Showtime and many other major productions. In addition, he has produced tours for Bernie Mac, Cedric the Entertainer, Chris Tucker, Paul Mooney, Faizon Love, Luenell and Katt Williams. He has been called the "guru" of Black comedy and was most recently honored with the Bay Area Comedy Legend Award for his work.
Rolling out spoke to Sullivan about censorship, tips for young comedians and the state of Black comedy today.
When did you see a change in what was once OK to say in front of Black audiences but is now being judged as politically incorrect?
For me, it became the norm when the Weinstein/Cosby and #MeToo movement began. Everyone on social media became experts on what is acceptable to say on stage. Not to discount the #MeToo movement, I think everyone should be held accountable for actions that bring harm [physically] to anyone. We have freedom of speech in the Constitution, so does this movement mean we lose our constitutional rights?
Does this mean Black comedians should fundamentally change their material?
Personally, I have never been an advocate of censorship, but with social media, we now must be prepared for the backlash to come from the social media po-po. I have told comics to be aware of the audience response and if needed before leaving the stage, give a reminder that this was all in jest, you are at a comedy show. If anyone was offended, it was not my intent.
If a White comedian, such as Larry the Cable Guy, were to use the N-word they would face a tremendous backlash. Is this a double standard?
Personally, I am not a fan of the word, especially being used by non-Blacks. I remember looking the word up in the dictionary when I was around 9 years old, It had nothing to do with color. It meant stupid, inane or ignorant. Now the first definition is a Black person. With that being said, the meaning of the word is to degrade us as a race of people and should not be used.
When is comedic material hurtful?
I'm not a fan of personal attacks on audience members. If someone heckles you, it's open season. The fans are the reason you are getting paid, no reason to attack them. Other than that, you just don't know what a person is going through, so that is something you must be mindful of when writing.
In closing, what would you like to say about Black comedy today?
I had a conversation recently that if you look at the history of Black comedians that have had major success, the average was 20 years of grinding. This is a fact. If you want to get into the comedy game, be prepared to grind for 20 years.