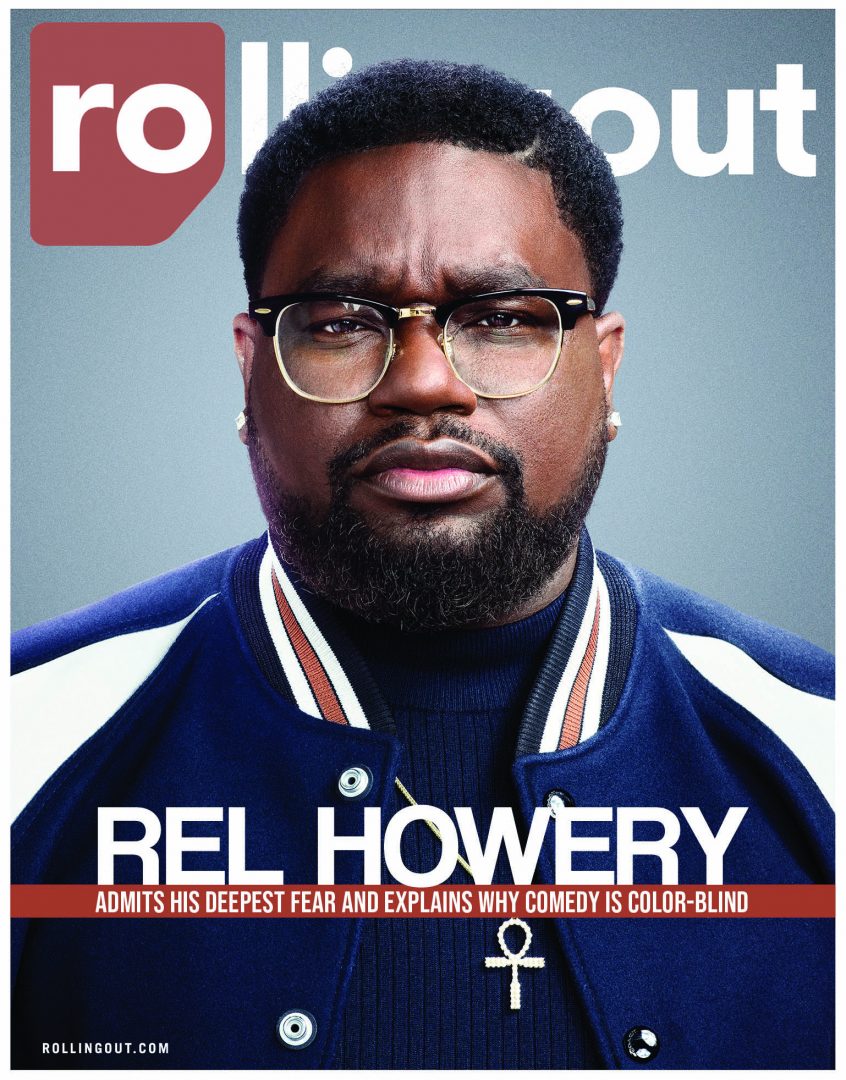 Rel Howery — aka Lil Rel, aka Rel — was one of the biggest names in theaters in 2017 for his role in the Oscar-winning millennial cult classic
Get Out,
and he ended 2018 with a self-titled sitcom on Fox and a role in one of the most-talked-about films of the year,
Bird Box
, starring Academy Award-winning actress Sandra Bullock and Oscar-nominated actor John Malkovich.
The Netflix thriller was released right before Christmas, and by the top of 2019, the film had sparked a social media frenzy with the trending hashtag #birdboxchallenge. The concept of Bird Box focused on the manipulation of fear, so we asked Rel about his greatest fears, breaking color barriers in comedy and if he worries about being overly politically correct.
What is your greatest fear?
My greatest fear is the same fear that Sandy had in the movie — not being about to protect my children. That's the only fear I've ever had really. That's what I love about this movie. It shows a mom just going against the grain doing anything necessary to keep her children safe. Other than that, I don't really fear anything.
With your Fox sitcom "Rel," was it important for you to show the perspective of a divorced dad?
It wasn't just about the man's side. It allowed me to show a man that didn't want to lose his family. We always paint this picture of the man saying, "Yeah, it's cool. I'm back out here," but not every man wants to be away from his family. I also wanted to show how to be an effective long-distance dad.
"Rel" also features comedic legend Sinbad on one end, brand-new comic Jess Hilarious on the other and you kind of in the middle. How did the three of you jell?
It's been surprisingly easy for the three of us to work together. It's so good having him [Sinbad]. For years, he was saying he didn't want to come back to television, so to be the one person that he comes back for is dope.
You were a part of an Oscar-winning movie with Get Out. Did you know the movie would have that impact?
I had a feeling that it was something special. I didn't know exactly what it was going to do. It was a low-budget movie … but I had a feeling that it was something special. We all originally did it because we liked [director] Jordan [Peele]. I remember after he saw the first cut, he called and said, "Make sure you know your price because you're going to be able to get what you want after people see this film." That movie changed my life. I didn't have to audition anymore for anything. "Bird Box" came as a result of Get Out, and a lot of other things followed.
Chicago has a big impact on culture. Do you represent your city intentionally?
I've always talked about Chicago. It's where I'm from. I want to be the one to tell the stories about where I'm from. Chicago is one of the staples of comedy. Bernie Mac is from Chicago. Robin Harris was from Chicago.
Besides Bernie Mac and Robin Harris are there any other comedians you looked up to?
Eddie Murphy was a big part of my initial inspiration, the Wayans family [and] David Alan Grier, especially his sketch stuff. I watched a lot of "Saturday Night Live" [and] Chris Farley. I studied and pulled from so many different things that didn't make sense to other people. I used to love the Saturday morning shows like "Saved by the Bell." I like "Frasier." I loved "Family Ties." Can't I like those shows and still like "Martin"? Sometimes we as Black people try to put ourselves in a box and act like we can't like different things. Funny is funny, and having different influences helps your imagination be even more creative.
There have been a lot of comedians and celebrities taking heat over comments they've made on social media. Do you think we are too sensitive right now as a culture?
No, I think people were just too mean for a long time. I've never been a mean comic. For a long time, people thought the harshest things were the funniest, and everyone wanted to be shock comics. You had shock comics on radio. Honestly, some of that stuff was too much. I think that's why you see old video or tweets from the past come out now, and people are being held accountable. There's nothing wrong with just being a good person. If you look back at some old comedy, it was based on how to be as mean as possible. Every single woman is a b—-. I remember listening sometimes and cringing, like is every single woman a b—-? It's just recently that Black people are more comfortable with homosexuality. If you go back and look at a lot of old comedy, you hear people just going in. It was crazy. I think we're in a better place now where we are paying attention to what's too far versus what's clever or smart or funny.
Are you comfortable with the attention that you get at this point in your career?
It's still kind of weird to me how much attention you get based on what you do as an entertainer. With me, I'd rather just let the work speak for itself. I think that's what I love about some of my favorite actors.  Like you don't see Denzel running around saying, "I'm killing it."
I studied comedy, but I never thought about that side of it. Sometimes I'm comfortable with the attention, and sometimes I'm not. I think people do too much sometimes. But it's cool living out the dream that I had. I'm so grateful. It's dope living the dream that the little kid version of me wanted to do. It seemed far-fetched at first, but to be here actually doing it is amazing.
The season finale for Rel's self-titled sitcom will air on Fox, Sunday, Jan. 20, 2019, 9:30 EST.
Story by Christal Jordan
Image by Matthias Clamer