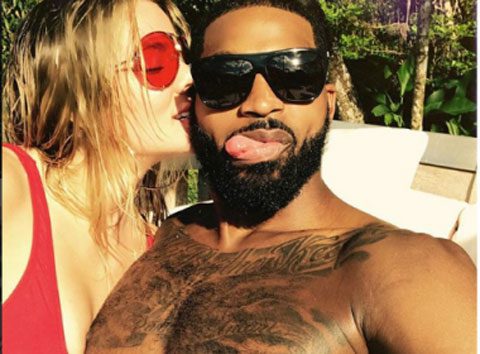 Jordyn Woods begins the new chapter in her life as Public Enemy No. 1 for reportedly betraying Khloé Kardashian by engaging in some form of intimate interaction with her boyfriend, NBA baller Tristan Thompson.
Thompson, a center with the Cleveland Cavaliers, is the father to Kardashian's toddler. Until recently, Woods was the best friend with Kardashian's sister, Kylie Jenner.
Both Kardashian and her BFF Malika Haqq intimated that they believe Woods and Thompson have cheated in some form or fashion, the New York Post reports.
Jenner has reportedly demanded that Woods move out of her Hidden Hills, California, home.
Woods briefly referenced her recent troubles during the launch of her Eylure eyelash line.
"I just want to say thank you guys for coming out and supporting me through everything that's going on. You know, it's been real," she said, according to Page Six. "And Eylure has been super real, and this has been a project I've been working on for over nine months right now, almost a year, so I hope you guys can enjoy the lashes as much as I do, and thank you for coming out."
Meanwhile, Kardashian felt obligated to keep up with her public appearances, despite another round of humiliation at the hands of Thompson. She hit up the scene with Haqq at the PrettyLittleThing L.A. Office Opening Party on Wednesday, Feb. 20, 2019. The next day, Khloé critically addressed the scandal with quotes on her Instagram story.
"The worst pain is gettin hurt by a person you explained your hurt to (sic)," she said in an apparent shot at Woods.
Despite the fact that Woods has reportedly moved on — as well as moved back in with her mother — the public is not as quick to let the scandal go.
Some fans unleashed on Woods in the comments section of her Instagram page for what she reportedly did to Kardashian and Jenner, Here's a sampling:
_gracie.satterfield_: I see you closed the gap in between your teeth. It's a shame the dentist didnt teach you how to close your legs as well 😂.
maamarihaya: Kylie wants the face and clout back
diorscult: give Kylie the teeth back
Crokodiletears: When you can find your own man but you get one that has a wife and children 😩😩😩
_tessa.ann_: Sucks to be u because those new teeth boutta be punched out by khloe 😭.