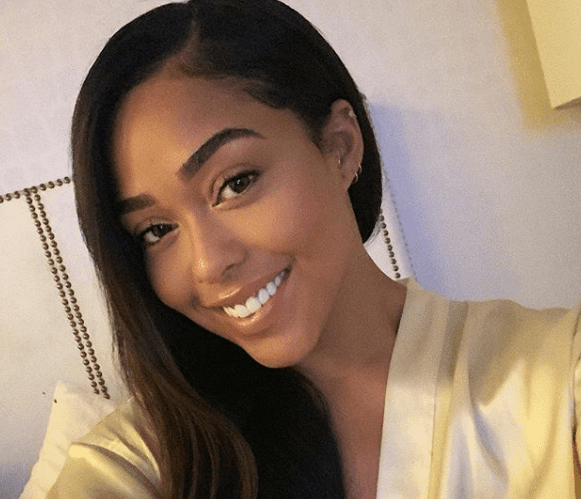 When 34-year-old Khloe Kardashian took off after Jordyn Woods like a rocket after the 21-year-old admitted her mistakes on "Red Table Talk," Black Twitter immediately formed a protective circle around Woods.
In a move that probably surprised Kardashian, Black Twitter closed ranks behind Woods like an Army brigade as the hashtag #TeamJordyn became the No. 1 trending topic in the U.S. Friday evening (March 1, 2018) and into early Saturday morning.
Despite the fact that Woods owned her mistake for flirting with Thompson (while claiming she did not sleep with the NBA basketball star) Kardashian charges Woods with being a homewrecker who broke up a happy relationship.
"You ARE the reason my family broke up!" Kardashian tweeted at Woods on Friday morning, shortly after Woods spilled her guts on Jada Pinkett Smith's phenomenally-successful Facebook Watch show.
As rolling out previously reported, social media is letting Kardashian know that its memory is long and can easily recall all the instances of infidelities that Khloe Kardashian (and the rest of the Kardashian/Jenner clan for that matter) has been involved in, even as the mainstream media continues to construct the narrative with Kardashian as the victim.
https://twitter.com/elisabeth/status/1101667115528970240
https://twitter.com/iammaarts/status/1101655193597300736
Worse for Kardashian, a disparaging hashtag #FreeTristanThompson was also trending in the Top 5 nationwide on Friday evening. It generated out-loud laughter as Black Twitter tries to alert Kardashian and the world that a young, virile, woman-loving athlete like Tristan Thompson does not want to be in a monogamous relationship, at least not with Kardashian.
The NBA center's actions seem to indicate loudly, Black Twitter says, that he is trying to extricate and untangle himself from the sticky Kardashian family web.
https://twitter.com/1nateton/status/1101547813144453120?ref_src=twsrc%5Etfw%7Ctwcamp%5Etweetembed%7Ctwterm%5E1101547813144453120&ref_url=about%3Asrcdoc
https://twitter.com/t_n_m__/status/1101599828767899648?ref_src=twsrc%5Etfw%7Ctwcamp%5Etweetembed%7Ctwterm%5E1101599828767899648&ref_url=about%3Asrcdoc
https://twitter.com/Twerrotist/status/1101651011079491585?ref_src=twsrc%5Etfw%7Ctwcamp%5Etweetembed%7Ctwterm%5E1101651011079491585&ref_url=about%3Asrcdoc
Folks believe Thompson has been ringing the alarm bell ever since he was caught blatantly cheating with a pair of women in a club last year while Kardashian was preparing to give birth to their first child, True. He was also filmed on video taking a woman into his hotel room after a Cleveland Cavaliers game in New York that same day. It appeared to many observers that Thompson was not trying to hide.
Many also deride Kardashian with trying to put all the onus of the scandal on Woods, who just acquired the legal right to drink, as opposed to the worldly 28-year-old Thompson who reportedly has a long record of cheating on his women. He was also fingered by Woods as the aggressor who planted a surprise kiss on Woods when she was leaving the infamous afterparty at Thompson's home.
These reasons, and more, are why the hashtags #freetristanthompson and #teamjordyn trended in the Top 5 of Twitter for most of Friday evening. Below is a sampling:
Can't wreck a home that was never there #TeamJordyn pic.twitter.com/ApcMTfl8LE

— HerMajesty🥀 (@BewBeau_) March 2, 2019
Jordyn at home reading black twitter #TeamJordyn pic.twitter.com/fTcPG9s4Tv

— LotusFlowerBomb🌸 (@danielarenee16) March 2, 2019
grown man in a RELATIONSHIP with a DAUGHTER initiates a kiss with a drunk 21 year old and she gets all the blame ???? #teamJordyn pic.twitter.com/bbcT9ceJZ8

— mclatto flurry ❄️ (@alexiamartinn) March 1, 2019
Tristan: Yo Lamar. No offense but ion know what else to do bruh. How much crack is enough to overdose but not die? #FreeTristanThompson pic.twitter.com/x2PLUuWkD0

— Dank Gallagher (@ChevSaidSo) March 1, 2019
Tristian is going to have to fake his death to get rid of Khloe. #FreeTristanThompson

— SheHulkJulius (@funnyjulius) March 1, 2019
https://twitter.com/BeingMaryShayne/status/1101625268161208320
Tristan after everyone is blaming Jordyn pic.twitter.com/QHlyKsML2S

— André T'Challa Benjamin (@Mr_Dapper_Don) March 1, 2019
You either get with Tristan Thomas and his Groupon penis or go.

— Blocka Khan (@Starr_Rocque) March 1, 2019