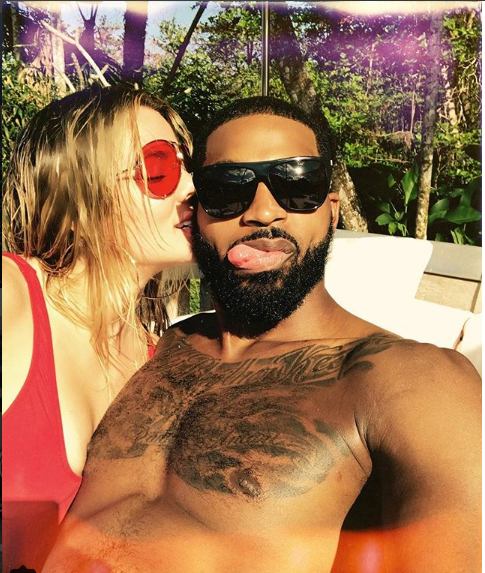 It is highly ironic, or even poetic justice in the eyes of many Kardashian detractors, that  Khloe Kardashian's ex-boyfriend Tristan Thompson cheated on his previous girlfriend named Jordan Craig, just to get with Kardashian. And now, a few years later, the woman that Thompson cheated on Kardashian with that ended their relationship, is another woman named "Jordan," — as in Jordyn Woods.
You can't make this kind of stuff up. Truth, as the American mantra goes, is often stranger than fiction.
As you will see from the Twitter responses below, Black Twitter is not feeling sorry for Kardashian, whatsoever. They believe Kardashian and her friends are flagrant hypocrites who are getting back what they have done to others. Kardashian and her BFF, Malika Haqq, had no compunction taking other women's men for themselves, but now want to make themselves out to be victims when that same man cheats on them in the same manner that they acquired that man.
In fact, as reports have it, Haqq laid down with married man on more than one occasion.
As the age-old axiom goes: "How you get a man is often how you can also lose a man."
That's why the following social media responders cannot understand how Kardashian and Haqq could have the audacity and intestinal fortitude to throw shade at Woods for having intimate relations with Thompson when they both have a reputation of trying to snatch up kept men on the regular.
Or, as one woman put it best on Twitter, Woods was just trying to exemplify the title of the Kardashian's insanely successful reality show:
True dat. #JordynWoods pic.twitter.com/wfkqhEHMRu

— NataliaKantaS® (@KantasNatalia) February 22, 2019
Of course, Woods is being figuratively burned at the stakes, replete with a scarlet letter practically branded into her forehead, since the scandal broke a week ago. Woods is also reportedly cut off from the family business and ousted from Kylie Jenner's home.
However, Black Twitter did not forget that Khloe Kardashian took Thompson from his pregnant girlfriend (Jordan Craig), who then proceeded to cheat on Kardashian while she was pregnant. While the mainstream media conveniently overlooks the Kardashian family's long and lurid history of infidelity, Black Twitter is there to remind pop culture that karma may have descended upon Kardashian in a very unpleasant way.
https://twitter.com/SMarketingmusic/status/1099761273892409344
https://twitter.com/mayavado/status/1100646778968383488?ref_src=twsrc%5Etfw%7Ctwcamp%5Etweetembed%7Ctwterm%5E1100646778968383488&ref_url=https%3A%2F%2Fbossip.com%2F1707612%2Fbye-hussies-the-internet-is-still-dragging-khloe-and-her-lil-friends-for-their-alleged-history-of-homewreckin%2F
https://twitter.com/queenxtowns/status/1098206537661775872?ref_src=twsrc%5Etfw%7Ctwcamp%5Etweetembed%7Ctwterm%5E1098206537661775872&ref_url=https%3A%2F%2Fbossip.com%2F1707612%2Fbye-hussies-the-internet-is-still-dragging-khloe-and-her-lil-friends-for-their-alleged-history-of-homewreckin%2F
Today my pettiness is on Patty! With that being said, let us not forget Jordan Craig!!! Jordan my sister, I told you over a year ago you will have the last laugh… and today, you can do so YET AGAIN!!! Please let us not feel bad for Khloe Kardashian, for she did the same thing pic.twitter.com/Dlb1Rn3cZ6

— Kimberly (@Kimberl97202281) February 26, 2019
TheOneAndOnlyGaby wrote on Twitter:  "I get Jordyn messed up, but all you b****** bout to stop bullying her. Malika & all them hoes! Malika was f****** on a married man, Larsa cheated with future. Glass houses b****
Oxtail Enthusiast added on Twitter: "Khloe and her friends are being annoying at this point. Malika is acting like we forgot she was dating a whole married man with a family. Larsa thinks we forgot she, a married woman, f***** Future. Khloe herself was dating Tristan when his gf was pregnant. Trash. All of them."
https://twitter.com/ygdinse/status/1100927821055184896?ref_src=twsrc%5Etfw%7Ctwcamp%5Etweetembed%7Ctwterm%5E1100927821055184896&ref_url=https%3A%2F%2Fbossip.com%2F1707612%2Fbye-hussies-the-internet-is-still-dragging-khloe-and-her-lil-friends-for-their-alleged-history-of-homewreckin%2F
https://twitter.com/EmberEclipse13/status/1101129037186064384?ref_src=twsrc%5Etfw%7Ctwcamp%5Etweetembed%7Ctwterm%5E1101129037186064384&ref_url=https%3A%2F%2Fbossip.com%2F1707612%2Fbye-hussies-the-internet-is-still-dragging-khloe-and-her-lil-friends-for-their-alleged-history-of-homewreckin%2F
Double Millionaire wrote on Twitter that "Larsa f***** Future while married, so she should stfu."
Let me get this straight. Scott cheats on Kourtney everything is all good. Malika hooks up with French Montana, forgiven. Kylie dates Kim's best friend's baby daddy, no harm no foul. Tristan cheats on pregnant Khloe, no big deal. Jordyn messes with Tristan and she's cut off?? 🤔 https://t.co/qTrfenAeWY

— YesAMirror🙄 (@AJ_HxC_XD) February 20, 2019
This is the best. This familly have been screwing over guys all their lives. Its about time someone turned the tables. These kardashian / jenner ladies have seen more dickends than weekends! #JordynWoods

— WWEinformer (@WWE86327999) February 20, 2019