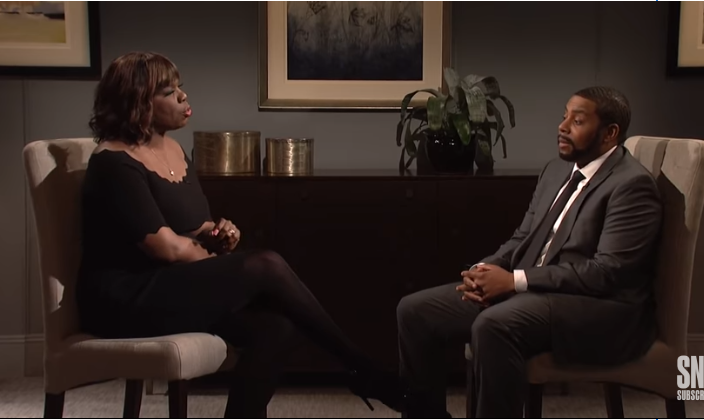 You knew "Saturday Night Live" was going to get ahold of R. Kelly's blockbuster emotional interview with "CBS This Morning" co-host Gayle King and turn it into a righteous parody opportunity. And this may be one of the better ones that they've produced in recent memory.
Longtime "SNL" cast member Kenan Thompson impersonated Kelly for the comedy bit, while Leslie Jones portrayed King in the show's opening skit and the two turned it out.
That was hardly the end of the laughs at R. Kelly's expense on the Saturday evening show. Fellow cast member Pete Davidson hit a home run with the way he addressed the widespread social disease of pedophilia in American churches and Hollywood.
Davidson garnered some wary laughs and some "oohs" when he compared the "Bump-N-Grind" singer's alleged sexual transgressions to the larger problem of Catholic priests sexually abusing underage boys for decades.
"If you support the Catholic Church, isn't that like the same thing as being an R. Kelly fan? I don't really see a difference, only, like, one's music is significantly better," Davidson said to howls of laughter.
To be sure, there has been a lot of chatter from Blacks on social media about the mainstream media's preoccupation with certain Black iconic entertainers' sex crimes — including Michael Jackson and Bill Cosby — while the sins of the Catholic church, as well as Harvey Weinstein and Kevin Spacey, have received relatively scant attention in comparison. Davidson adroitly tackled this issue head-on.
"Look, I'm not saying it's an easy decision, I'm just saying, you don't know how good someone's music is until you find out they're a pedophile," he continued with the bold skit. "And the reason everyone's so upset is because R. Kelly and Michael Jackson made great music. If I found out Macklemore did some weird stuff, I'd be happy to free up space on my iPhone."
Check out the skit and what Davidson says about Kevin Spacey on SNL's YouTube page: