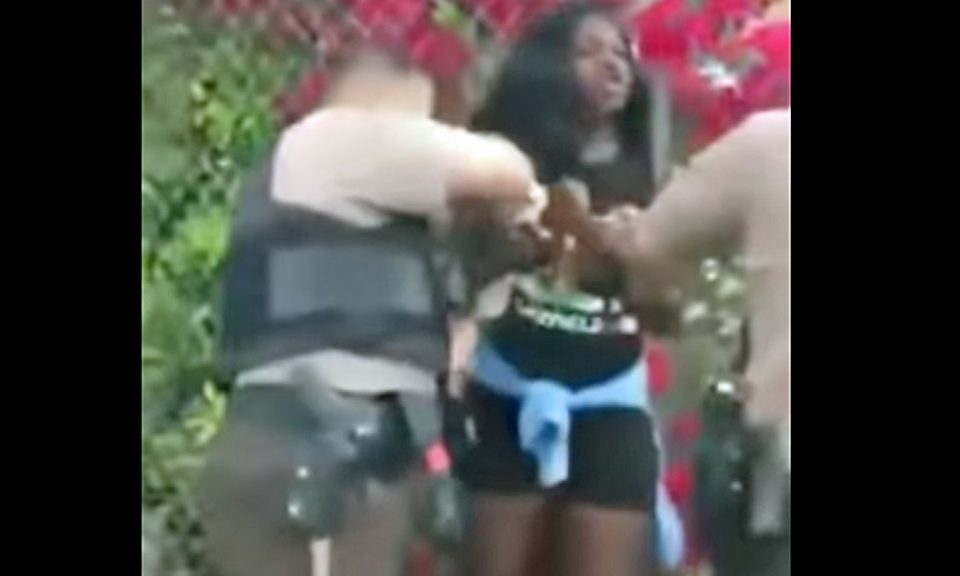 When Dyma Loving, 26 and her friend Adrianna Green, 22, called police after a neighbor pulled a gun on them, they never expected the violent response from law enforcement. Miami-Dade County police arrived at the scene and despite being the victim, Loving found herself violently assaulted by a cop, handcuffed and arrested for not listening.
The incident occurred on March 5, 2019, when the two women were walking from their residence and a White neighbor, identified as Frank Tumm, 50, called them whores. According to Loving, they ignored the neighbor at first, but he continued his nasty and racist tirade. A frustrated Loving allegedly threw a plant into Tumm's yard and yelled back. According to her, Tumm produced a shotgun, pointed at her and said he would "shoot my burnt black-ass face off my neck."
The women fled the scene back into their home and called the police. Miami-Dade County Officer Alejandro Giraldo was the first on the scene, but his response was not what the women expected.
Loving told the Miami New Times, "He started interrogating us like we were the suspects. I asked if he could escort us back to my friend's house so I could put my phone on a charger and call my children. I had just had my life threatened and was terrified. He was so rude and aggressive from the get-go. He kept telling me I needed to calm down, but I was so scared at that moment."
The exchange continued and Giraldo threatened to invoke the Florida law known as the Baker Act and have her involuntarily taken to a mental hospital. When Loving continued to protest Giraldo lunged at her, put her in a headlock and threw her to the ground.
Soon after, Loving found herself injured, crying and charged with disorderly conduct and resisting arrest. She spent several hours in jail before being bailed out. Officer Giraldo's report claims that Loving was the aggressor, but at no time did he question the neighbor who pulled the gun and threatened the Loving and her friend. The incident was recorded and now Giraldo has been suspended from duty, pending an investigation.
The video of the assault can be seen below: