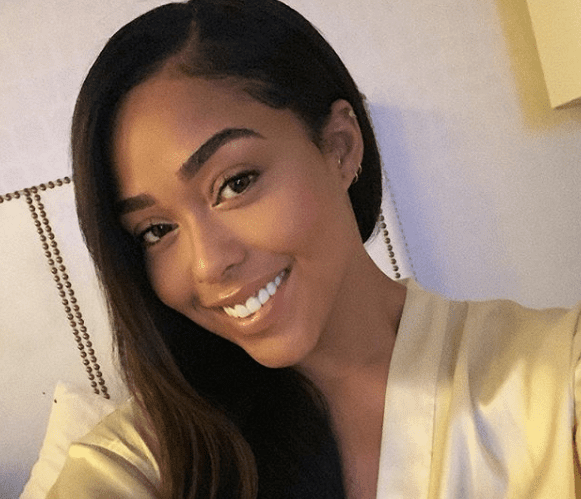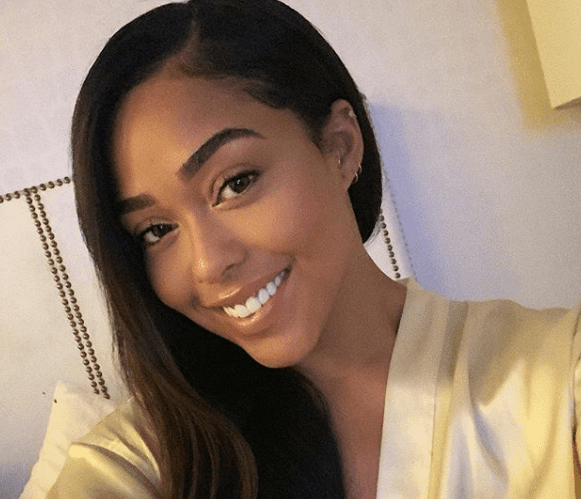 Socialite Jordyn Woods tried to dance around the paparazzi asking about her fractured friendship with Kylie Jenner, but she made it clear that she still loves the Kardashian clan member.
TMZ posted up Woods, 21, and her mother, Elizabeth, at the Los Angeles International Airport and peppered her with questions regarding the famous fallout that happened when she had improper intimate contact with Khloe Kardashian's former boyfriend Tristan Thompson, 28. This happened at a party that Thompson, an NBA star with the Cleveland Cavaliers, hosted at his L.A. pad when Woods imprudently stayed overnight. Witnesses then saw Thompson spontaneously plant a kiss on Woods' lips the next morning that eventually led to the implosion of several close relationships.
Khloe Kardashian, 34, broke up with Thompson almost immediately as this was his second time being caught cheating publicly within six months. Woods immediately moved out of Jenner's mansion and back in with her mother. Eventually, this episode led to a rift between the Smiths and the Kardashians.
TMZ asked if the support that Woods received from an even more powerful, and much more respected, Hollywood family, i.e., Will and Jada Pinkett Smith, enabled her to overcome the imbroglio with the Kardashian-Jenner clan.
Woods had to remind the questioner that the support she received was much bigger and deeper than just from the Smiths.
"Honestly, the whole world's support has been amazing," she said as she signed autographs and took pictures with fans at LAX.
When the inquisitor continued on with his cringe-worthy line of questioning, asking if she would be willing to reconcile with Jenner, Woods simply said "I have love for everyone" and that she will love Jenner "always."
Soon after Woods admitted her mistake of flirting with Thompson on Jada Pinkett Smith's wildly successful Facebook Watch show, "Red Table Talk," the hashtag #TeamJordynWoods went viral nationally. The support for Woods was so intense that Khloe Kardashian, who got dragged by social media, had to walk back her vicious comments accusing Woods of destroying her family. The next day, an embarrassed Kardashian had to admit that she misplaced the blame and appropriately blasted Thompson for being a serial cheater.
When the questioner followed Woods into the airport and kept asking Woods about Jenner, her mother stepped in and finally shut the interviewer down by simply saying: "We love Kylie."
In a set of circumstances that continues to eat away at Khloe Kardashian and her mother Kris Jenner, Woods has actually become much more popular since the fallout. She's become a recognizable brand name separate from the Kardashians and has signed multiple lucrative overseas deals.