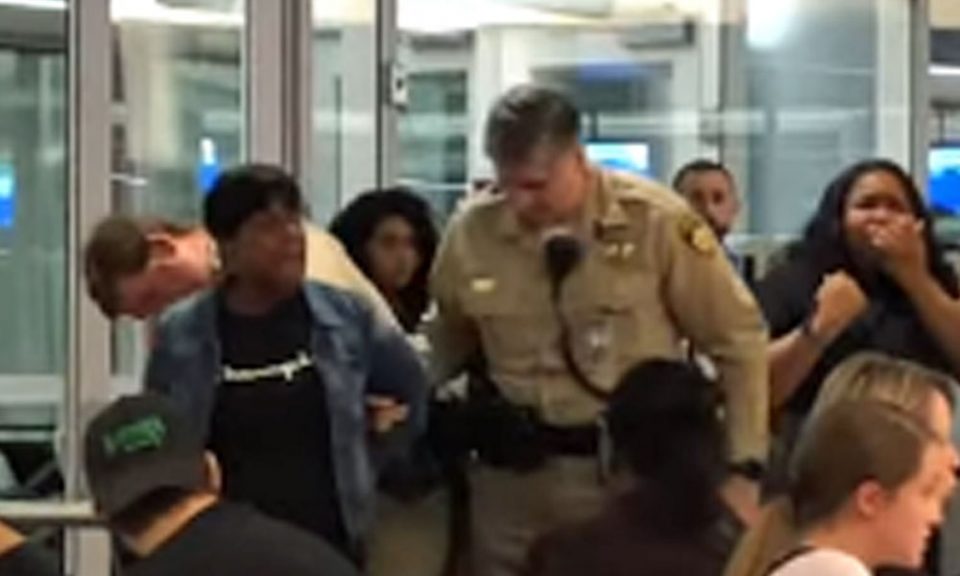 A flight home after a wedding ended in an embarrassing arrest for a North Carolina woman. Rosetta Swinney, 53, boarded a Frontier Airline flight from Las Vegas to RDU Airport after attending her older daughter's wedding. When Swinney and her younger daughter got to their seats, they were met with a rude shock. Her teenage daughter held up her hands that were suddenly covered in vomit from a previous passenger.
According to WRAL, Swinney told the station her daughter jumped up and said, "My hands are wet. She smelled it. She says 'this is vomit, mom.' So we went to look. It was on the bag, all over her shirt, her hands."
But when she told a flight attendant about the issue, she got less than friendly customer service. Swinney continued and said of the flight attendant's behavior, "I don't know if she got offensive about it. But she turned around to me and said, 'That's not my job.' If it wasn't her job. Why wasn't it [attended] to?"
When Swinney pressed the issue, the flight attendant seemed to ignore her and soon things got completely out of hand. The attendant called airport police and Swinney was handcuffed in front of her crying daughter and made to leave the plane. She was taken to jail and charged with misdemeanor trespassing, while her daughter was placed under the custody of Child Protective Services.  She paid a $1,000 bond and purchased tickets back home on a Delta Airlines flight. At this time Swinney has hired a civil rights attorney and plans to fight her trespassing charge.
Frontier Airlines has disputed Swinney's account of the incident and released the following  public statement:
"During boarding of flight 2066 from McCarran International Airport (LAS) to Raleigh-Durham International Airport (RDU) last week, two passengers told the flight attendants that vomit was present in their seat area. The flight attendants apologized and immediately invited the mother and her teenage daughter to move to either end of the plane so that the seat area could be cleaned. The mother and daughter were also told that once boarding was complete they would be provided other seats if available. The daughter was also offered cleaning products and invited to use the lavatory to wash up. The mother was unsatisfied with the response and became disruptive. As a result, the flight attendants determined that the mother and daughter should be deplaned and accommodated on another flight. The mother refused, and following procedure, law enforcement was called. Law enforcement then requested that everyone deplane so that the mother and daughter could be removed allowing the aircraft to be re-boarded and depart. We apologized to our passengers for the inconvenience caused by the departure delay. The safety of passengers and crew is our top priority at Frontier."
Another passenger on the flight recorded the encounter that can be seen in the videos below.