Detroit's all male Loyola High School recently announced that every 2019 graduating senior has been accepted into a two-year or four-year college. The high school, which is a Catholic school in the Jesuit tradition, nurtures a culture of hope and academic success for young men challenged by an urban environment and prepares them to be men of Christian love, justice, and service who act with integrity, compassion, and courage. This year marks the ninth continuous year that 100% of Loyola's graduating class has been accepted into their college of choice.
Loyola's "Signing Day" program is similar to the ESPN College GameDay program, and has been in existence for four years. This year, former University of Michigan Wolverine and member of the "Fab Five" Jimmy King made a special guest appearance to kick off the festivities and also provided the students with a motivational message that surely got the kids activated into college-mode. King was introduced by another familiar face in the Detroit sports world landscape, Detroit Pistons and Michigan State Spartans play-by-play announcer George Blaha.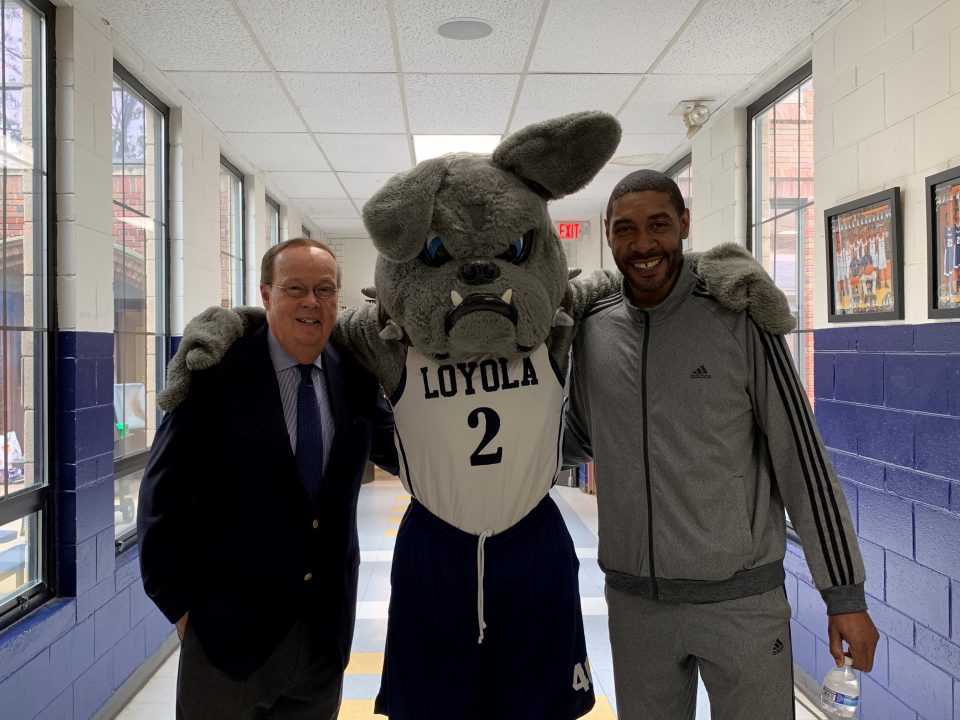 The class of 2019 exceeded expectations by accumulating more than $1m in scholarships, which was previously achieved by the graduating class of 2018. What's even more incredible is that over 50 percent of Loyola's class of 2019 are first-generation college students who had over 100 college acceptances to choose from, including several Historically Black Colleges and Universities (HBCUs), state colleges including Wayne State and Michigan State as well as a host of other universities.
"Detroit needs strong college preparatory education," says school President, Fr. Mark Luedtke, S.J. "If we invest in what's good for the city and what's good for our young people, our schools will produce students ready for the next challenge in their professional lives. Every one of these young men has the potential to be a future leader in Detroit, and they have prepared themselves while at Loyola High School."
Loyola's "Signing Day" program culminated a focused, year-long program in conjunction with the Michigan College Access Network (MCAN), which works to increase college readiness, participation and completion in Michigan, particularly among low-income students, first generation college-going students, and students of color.
Loyola continues to serve underrepresented communities in Detroit by providing young men an education guided by the Jesuit principles of academic rigor, critical thinking, service to others and spiritual development. Another remarkable thing about this high school is that It also challenges its students to go beyond academic excellence, to be reflective, to be committed to the service of faith and the promotion of justice: to be men for others.
To find out more about this high school of excellence, visit http://loyolahsdetroit.org/about-loyola/ . Congratulations to the entire graduating class of 2019.