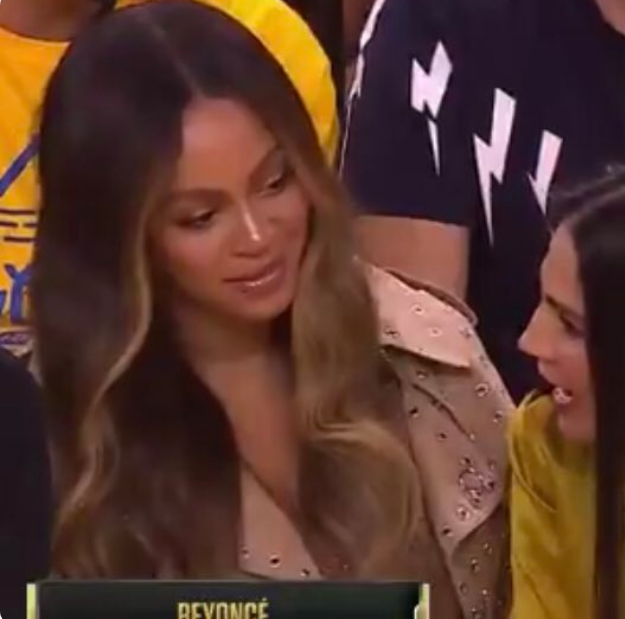 Nicole Lacob, the wife of Golden State Warriors owner Joe Lacob, is firing back after being dragged to tears for leaning over Beyoncé to speak with Jay-Z during Game 3 of the NBA Finals in Oakland.
An ESPN video went viral after showing her leaning into the pop music goddess' space to hear her conversation with Hov inside the famously loud Oracle Arena. A multitude of Beyoncé fans — including many from her astronomical 128M Instagram followers — interpreted Queen Bey's reaction as being irritated and the general assumption is that Bey subtly nudged Lacob out of her space.
Check out the video for yourself:
Jay-Z and Beyoncé are courtside for Game 3 😎 pic.twitter.com/6mmJuN8Odn

— ESPN (@espn) June 6, 2019
The ferocity of the BeyHive backlash was so intense that Lacob reportedly was reduced to tears and shut down the comments section of her Instagram page because of vile language and death threats.
Just spoke to Nicole Curran, the wife of Warriors owner Joe Lacob, about the "incident " with Beyoncé last night. She was in tears. Said she had been getting death threats on social media all night this morning she disabled her IG account just to make it stop.

— Ramona Shelburne (@ramonashelburne) June 6, 2019
Curran said she had no idea anything was even amiss until she got home and started seeing texts from friends and checked her social media. She's invited Jay Z and Beyoncé to the game 3-4 times before. Last night she says she asked if they wanted drinks. Beyoncé asked for water

— Ramona Shelburne (@ramonashelburne) June 6, 2019
Curran says Jay Z asked for a vodka soda. She asked if he wanted lime with that. But it was loud in Oracle and she couldn't hear, so she leaned over. That's where the photos of Beyoncé looking askance at her come from.

— Ramona Shelburne (@ramonashelburne) June 6, 2019
Meanwhile, Lacob came out in her own defense and told the BeyHive that they completely misinterpreted her behavior, adding that she has invited Jay and Bey to Warriors games in the past.
"Listen Beehive [sic]," she wrote on Instagram. "I respect Queen B. I love her! I talked to her husband twice tonight. First, to take a drink order for them both when they arrived as they were our guests. Second, to explain why I gave his wife a rose from a fan."
She then added this: "All of this has been taken out of context. I am a happily married woman. Telling me to kill myself?????? Somehow I don't think she would support this."
Earlier in the day, Lacob posted a photo of herself with Beyoncé in a lighter moment before deleting the post. But she added this caption, according to Time magazine:
"We should all help and support each other," she said.
Do you think that Bey's overzealous fanbase got this one wrong? And should Mrs. Carter-Knowles come out and apologize to Lacob for the alleged rudeness of her fans?