Moët Father's Day brunch (Photo credit: JS Photography)
The narrative in hip-hop is changing significantly as we see more Black men speaking about the importance of fatherhood and celebrating the presence of Black leadership.
With Atlanta commonly recognized as the apex of Black urban culture, Moët & Chandon key account manager Michael Gonzalez, also known as "Hezo," maximized an opportunity to celebrate Father's Day by hand-selecting some of the culture's top influencers. Those selected are exemplary representatives of Black excellence in their business lives as well as their family lives.
"Father's don't get enough recognition in my eyes," Gonzalez says. "It's bigger than embodying the role of a provider to me. I wanted to take these influential father figures out of their work element and cater to them over a Moët & Chandon brunch and let them know that their hard work, long hours and days away from home don't go unnoticed.
"We sipped champagne in gold goblets and had 'guy talk' on the state of the culture as a whole and what we are doing as mentors for our children to follow."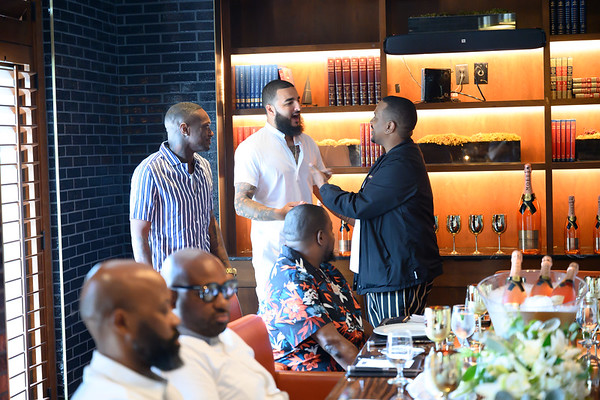 The 2019 Father's Day brunch was held in Atlanta and included entertainment promotions mogul Obie the Promoter, venue owner Biddy Barnes, Dishaun Stewart, DJ Infamous, international artist D. L. Warfield, viral comedian Funny Marco and multi-entertainment moguls Chubbie Baby, Chaka Zulu and Ray Daniels.
As fatherhood continues to become a celebrated narrative, we see cultural icons such as Jay-Z, Kevin Hart and Lebron James bragging on their milestones in fatherhood just as much as they brag on their career highlights.
Instead of the negative rhetoric we've heard for years about absentee fathers, our community is slowly returning to its authentic truth — something very different than the stories most of us were taught and some of us emulated growing up. We see leadership in the Black community being restored to the family unit, starting with the father being present in the home.
Viral comedian Funny Marco was one of the youngest fathers in the room. If you look closely at his social media page, in between his infamous videos he proudly shows off pictures of his beautiful 5-year-old daughter Millian Summers.
He says being around successful Black men that are just as proud of their families as they are of their career accolades is inspiring to him. "The brunch was amazing. Hezo put it together great, but really it was just great being around so many good fathers who have their business together and are proud of how they take care of their families has been life-changing for me," he says.
In order for this new "his-tory" to be written, those of us who have the privilege of exemplary Black fathers in our day-to-day lives must celebrate and uplift those men not only on the second Sunday in June but also every day that we have the opportunity.
Kudos to Michael Gonzalez and Moët for being a crucial part of moving the culture forward this Father's Day.