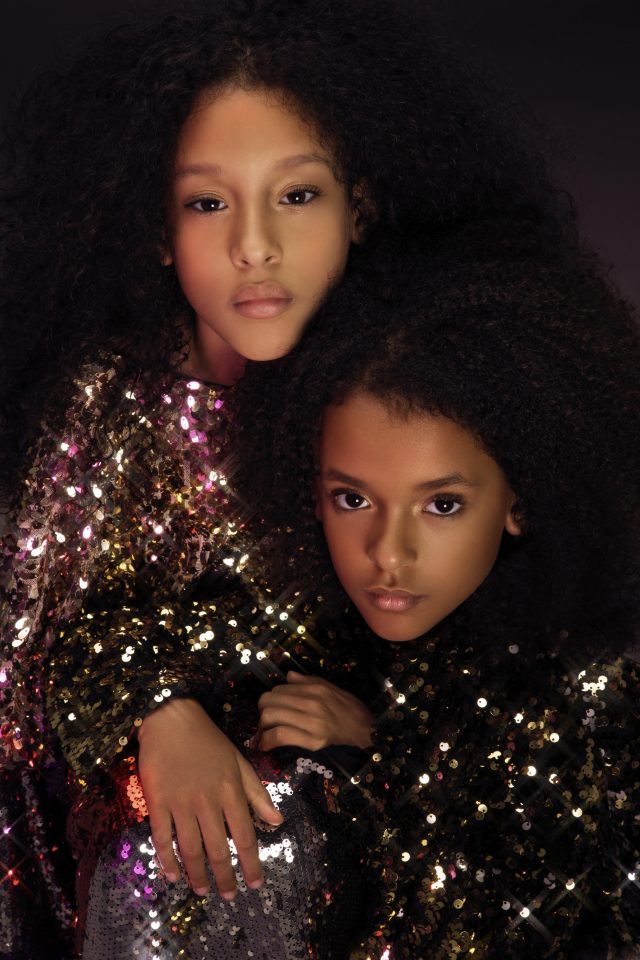 Twins Beverly-Claire JoAnn and Madeleine Butigieg Schembri are featured in their first ad campaign just a few weeks after signing with the Atlanta division of bmg Talent. The rising fifth graders will be the faces of P. Sherrod & Co's summer campaign, which was conceptualized and shot by Fatima Michon Photography.
"These girls are beautiful, and they've got the talent," said Michon, who photographed the sisters wearing casual summer shorts and fancy sequins tops for the ads.
Donna King, the company's CEO and head designer is thrilled to have the beautiful and well-adjusted girls model P. Sherrod's collection of fine Colombian leather handbags and small leather goods carried in Belk stores.

The Schembri twins, who already had a full schedule of rigorous academics, international travel, and music lessons, decided to pursue modeling as a way to proclaim their physical beauty after being bullied. Last summer, mean girls viciously taunted Madeleine at a science camp, calling her ugly and teasing her about her "super big" lips. Initially, Madeleine didn't know how to deal with it on her own, so she internalized it and allowed it to take root in her then just 8-year-old mind and damage her self-esteem.
"Bullying is cruel, and no one should be made to feel that way," said Madeleine.
Fortunately, Madeleine eventually confided the experience to her parents, Thomas and Beverly Schembri who made sure both twins got the assistance needed. After reflecting on the experience, the girls decided with the support of their parents, to pursue modeling, which is likely to lead to opportunities to pursue their other passions of acting and philanthropy.

"Modeling is helping my daughters come out of their shells and express themselves with confidence," said Beverly.
Though people often remark of the unique beauty of the fraternal twins, who have a black mother and white father, it is their resilience and intelligence that will appeal to advertisers. Born three months early, at just 28 weeks and just two pounds each they proved to be fighters early on.
Their parents, who reside in Covington, Georgia, also made the unconventional decision to home school the girls until fourth grade. Their flexible academic schedule allowed for immersion learning through travel and exposure from birth to the Spanish language and consistent contact with native speakers.  Given their upbringing, the girls have always been encouraged to be as imaginative and as free-spirited as possible.
"Modeling makes me feel beautiful and all girls should feel beautiful the way God intended," said Beverly-Claire.