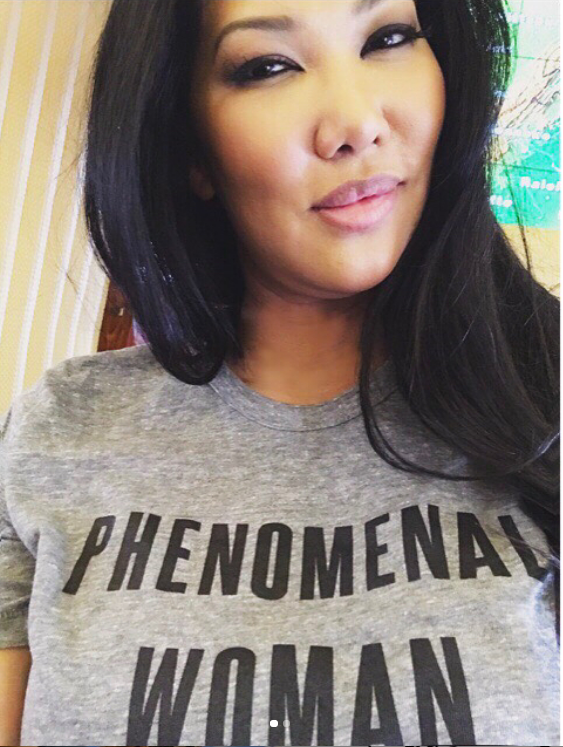 Kimora Lee Simmons is being savaged on social media for defending the Kardashians while they bullied Jordyn Woods.
Of course, the Sunday, June 30, episode of "Keeping Up the Kardashians" focused almost exclusively on Tristan Thompson pushing up on Woods and the Kardashians then coming together like a pride of lions before the hunt.
Khloé Kardashian has already been ground into sand for calling Woods "fat," and now the social media herd is stampeding all over Russell Simmons' ex-wife.
Simmons' sin, according to Black Twitter, was defending the 30-something Kardashians' behavior in the aftermath of the Thompson-Woods cheating scandal.
Simmons has since taken to Instagram to try to defend herself:
"I don't condone bullying at all. I am def more old school. I pop heads. Guys and girls included. Everybody responsible. These are adult men and women involved. Not children. (sic)"
The show's latest episode comes as Simmons announced the reboot of her Baby Phat clothing line, but some fans let Simmons know what she can do with the clothes:
I am SCREAMING at Kimora's IG comments right now pic.twitter.com/fWU0o1ESVp

— Nat (@lucybradfords) July 1, 2019
I still can't get over Kimora gassing up these culture vultures while they trademark Kimono and she's part Japanese #KUWTK

— Rerun Stubbs (@StubbsRerun) July 1, 2019
Kimora's in her 40's and on her 3rd husband/2nd beard, Kim's a mom of 4 married to Clayton Bigsby, Larsa's a 74 year old mother of 9 who smashed Future between his 9th + 11th kid, Malika was the sidechick to Chinx + Khloe is Khloe + they out here bullying a 21 year old? K. #kuwtk

— Delilah Benson (@DelilahBenson12) July 1, 2019
https://twitter.com/madisonqueen18/status/1145545770202017792?ref_src=twsrc%5Etfw%7Ctwcamp%5Etweetembed%7Ctwterm%5E1145545770202017792&ref_url=https%3A%2F%2Fbossip.com%2F1749846%2Fkeeping-up-with-the-enemy-kimora-lee-simmons-is-getting-dragged-for-gassing-the-kardashians-up-against-jordyn-woods%2F
Kimora Lee Simmons sending Khloe videos of encouragement to damn near go after Jordyn is disturbing.

— Venika Dewan (@VenikaDewan) July 1, 2019
I'm not sure if Kimora lee Simmons trying to keep up with the Kardashian's or get invited to the next Christmas party but I'm disappointed in her for even agreeing to do that scene. Wack. Just like that baby phat come back. Wack 🗣 #KUWTK

— Natasha lee kraft (@NatashaKraft84) July 1, 2019
And tell Kimora we not getting the Baby Phat collection anymore. #KUWTK pic.twitter.com/DkoNKBjZ1U

— TrapGirl Ray Ray (@SweetRayMarie) July 1, 2019
Please Don't Let Kimora Get Your 🤬 beat!! #KUWTK pic.twitter.com/Y1XHujoIXv

— Dedra Pauling (@dedrampaul) July 1, 2019