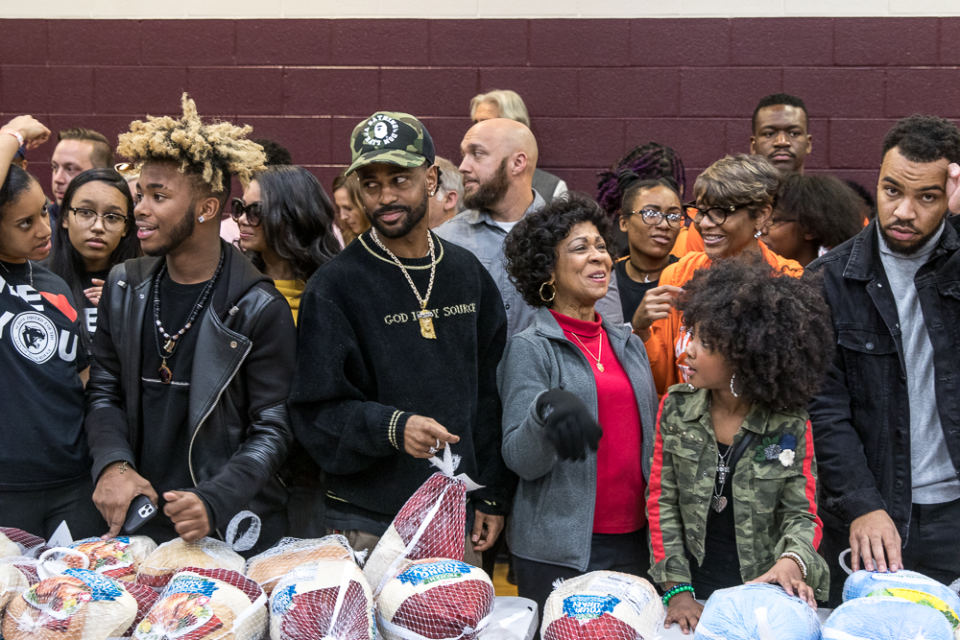 ~ Story contributed by Jordan Woods for Steed Media
Big names and even bigger hearts were on hand on Tuesday, Nov. 26 for Tarence Wheeler's 20th Annual All-Star Give Back: Thanksgiving Edition 2019.
An uncharacteristically mild Michigan afternoon made it easier for families to wait in line to enter River Rouge High School for the Give Back. Once inside the gymnasium, patrons were treated to a turkey as well as other food items necessary to prepare a love-filled Thanksgiving dinner. When all is said and done, over 5,000 families were given turkeys and food baskets for the holidays.
Some notable people on hand to help pass out food and interact with the community included:
Native Detroiter and rapper Big Sean and his mother Myra Anderson
Michigan Lieutenant Governor Garlin Gilchrist
Actor Hill Harper
Former NBA All Stars Gary Payton and Derrick Coleman
Tarence Wheeler of the Tarence Wheeler Foundation
Everyone involved was in a giving mood in terms of resources and their morale. Celebrities could be seen having lively conversations with those in line, snapping pictures, and offering words of encouragement for those going through hard times. Everyone involved was authentically excited to help out in any way they could.
This is the Sean Anderson Foundation's seventh consecutive year of being an integral part of the event. Their contribution and the event as a whole get bigger every year, but what remains unchanged is the energy and spirit that is palpable to all who attend.
"That's by design," one Sean Anderson spokesperson told rolling out. "All of the events put on are things we genuinely enjoy contributing to."
For Detroit native Big Sean, the event is not about the fanfare it generates. Instead, it's about effectively helping those in need.
"It's not a line for a concert, it's a line because they're families in need," Sean remarked. "Hopefully this inspires people to want to give back more," he went on to say.
It's often hard enough for many of us to find time to prepare for the holidays. Coordinating travel plans and who's going to bring what to dinner often leave many of us feeling overwhelmed. But on this occasion, people with very hectic schedules shoved aside any and all excuses that would preclude them from being of service to the community they love. Every year this event demonstrates that we can all make it a priority to give back in a way that is within our means, no matter how big or small.
For more information on this event and related charitable works, please visit http://www.tarencewheelerfoundation.com