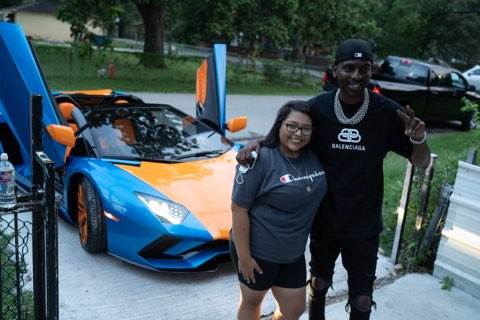 Memphis-raised rapper Young Dolph recently gave back to a fan in a big way. On Sept. 17, Young Dolph gifted Jackie Davila of Pleasant Grove, Texas his customized Lamborghini Aventador.
The vehicle, which retails at about $450,000, was personally delivered to her by Young Dolph who recently released his album, Rich Slave.
Davila won the car by purchasing Dolph's album Rich Slave and entering a raffle.
"Last week I walked in the garage to get on my 4wheeler and I looked at my Lambo and said to myself 'Dolph you should give someone your Aventador and let them enjoy it,'" Dolp said in a statement. "So yea, now I'm about to give one of my fans my Lamborghini in the middle of a pandemic/recession."
Davila, 23, is a newlywed and expecting her first child. She is planning to sell the car to purchase her first home.
"Today was an experience like no other, I felt surprised, nervous, shook, in plain disbelief all at the same time," she said in a statement. "It never crossed my mind that I would actually be the winner and that Young Dolph himself would literally give me his car, his half a million-dollar car at that. Every time my husband and I would go to his concerts I always told him 'I wish I could meet him for once so he can know that I even exist and maybe smoke a blunt with him' and to finally get to meet him like this is simply amazing."
She continued, "Young Dolph and his team were humble and treated me so kind, they congratulated me and thanked me for being a big fan. I was so speechless I couldn't and still don't believe it. He is definitely a role model, someone I have looked up to for years, and a huge motivation. This is a tremendous blessing for my family and I. I thank God for everything and hope one day I can be in the same position as Dolph to give to others."