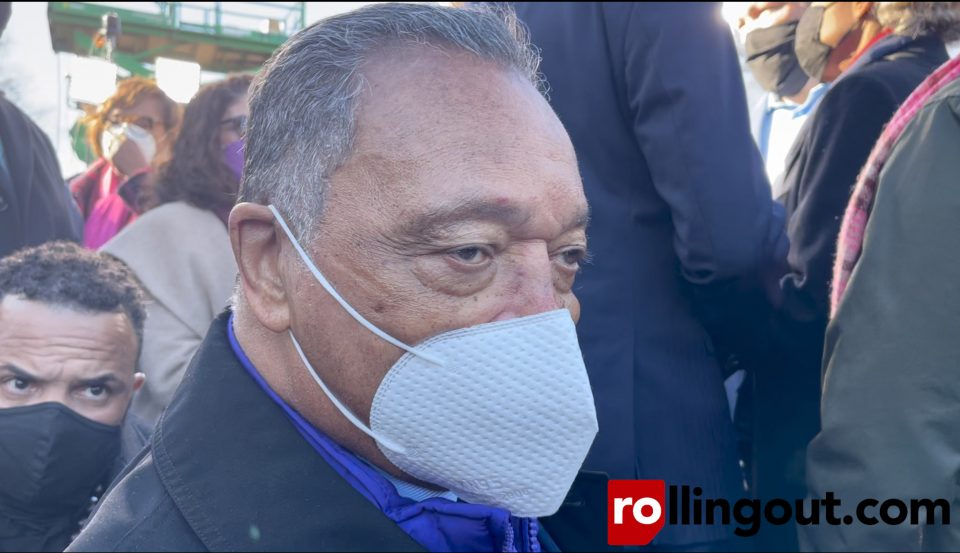 Dignitaries were being escorted to their seats in a green space on Clark Atlanta University's campus on Jan. 11 for President Joe Biden and Vice President Kamala Harris' address.
There were three men, however, who brought a crowd with them wherever they went: Rev. Jesse Jackson, Al Sharpton and Ambassador Andrew Young.
"These are living legends!" an event volunteer exclaimed after she helped escort Young to his viewing spot. "I can not believe I'm here."
For some students, having such distinguished guests on campus was an advantage they knew they signed up for as attendees of historic institutions.
"Going to the Atlanta University Center, you get a lot of opportunities," Aliana Stanley, Spelman senior psychology and political science major, told rolling out.  "I am so excited to be here, thanks to the NAACP."
Stanley is a member of the NAACP, which granted her access to watch the President speak.
Jackson, 80, took the time to speak to everyone who requested to speak with him. Students, local officials and media alike, were all graced a few moments with the civil rights icon.
While a 2022 public appearance was nice for Jackson, he attended the address with a purpose. He wanted Biden to do whatever he could to get the Senate to pass the John Lewis Voting Rights Advancement Act.
"[Biden can] use his strength to end the filibuster and get the right to vote protected," Jackson told rolling out. "Protecting the vote is a huge win for the Democrats and for all of Democracy."
Whenever Biden emphatically mentioned the voting rights act during his speech, Jackson and Sharpton immediately stood up to applaud the President in agreeance. Jackson, 67-year-old Sharpton and 89-year-old Andrew Young, were at the forefront of the attendees for the passionate plea.
"We are fighting for the soul of America, still," Jackson wrote in a Twitter post after the event. "We shall NEVER GIVE UP!"
STRONGER TOGETHER. With the brothers, beloved. Today listening to @POTUS in Atlanta. We are fighting for the soul of America, still. We shall NEVER GIVE UP! Pass #TheJohnLewisVotingRightsAdvancementAct #VotingRights #KeepHopeAlive #IamSomebody ( Masks were taken off for pictures) pic.twitter.com/nHozjDV317

— Rev Jesse Jackson Sr (@RevJJackson) January 12, 2022
Continue reading on the next page.