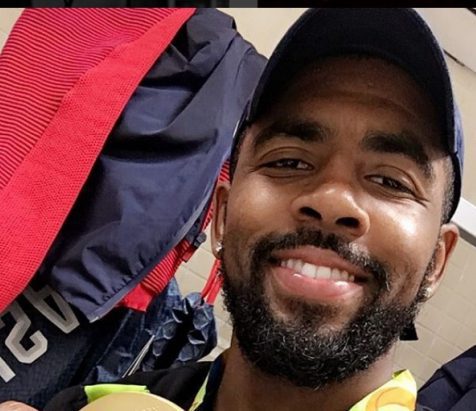 Kyrie Irving, the Brooklyn Nets' dynamic point guard, was levied a fine after uttering a profanity at a fan of his former Cleveland Cavaliers squad.
Byron Spruell, president of league operations for the NBA, said the 29-year-old All-Star was charged "for directing obscene language toward a fan."
The episode took place during the second quarter of the Nets' 114-107 loss against the Cleveland Cavaliers at Rocket Mortgage FieldHouse last week. A Cavaliers fan sitting courtside could be heard trolling Irving in a video that has now gone viral.
Irving barked back at the fan with this stinger: "Got y'all a championship and motherf—— still ungrateful." 
The seven-time All-Star was the Cavs' first-round pick in the 2011 NBA Draft. After being perennial bottom-feeders before King James returned to Cleveland, the Cavs won the NBA title in 2016. However, some fans remain bitter that Irving demanded a trade after the 2017 season and scampered off to Boston. Irving hasn't returned to the championship series since.
This explains why the courtside fan was heckling Irving as the Nets were losing to the Cavs by asking sarcastically, "Do you need LeBron?"
When Irving popped off to the fan, he was popped by the NBA league office in New York.