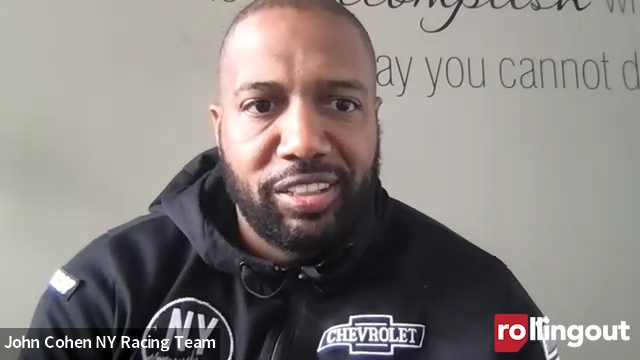 John Cohen always knew he wanted to take a different route.
The owner of the NY Racing Team recently spoke with rolling out to detail his journey as an entrepreneur and share what it's like working within the world of NASCAR.
Why did you decide to launch a NASCAR team?
Just doing some[thing] different. For me, it wasn't about being in the music industry, being in the clothing industry or the alcohol industry. I felt like a lot of us went [to] that lane because it was a lane that was easy because we had a lot of people around it.
For me, I feel like there are a lot of kids that want to get into racing and don't have a lane for it. So, I'm trying to build that lane for that. For the future, for the kids to be able to make it easy for them.
What's it like as a CEO knowing you have a business with a huge budget?
Sleepless nights. Your mind keeps wondering how to build a business and make it grow. For me, I want to be like the other teams. The bigger teams that have been around for 40 years, I want to end up like them, per se.
Two or three cars on the track at one time, able to have multiple sponsors in a car and run competitively. That's my goal to make sure I get to that level.
What's the annual cost to be in every race?
It ranges between $16 and $30 million.
Sixteen million just to get on the track. With sponsors, are they running in droves to support or is it a slow walk so far?
It's a slow walk so far, but it's picking up since I've been doing a lot more press than in previous years. … NASCAR's gained a lot of visibility, to change the guards, it's moving faster, but not fast enough for me.
How did you convince your driver to come back?
He and I talked for years, and I told him, "Once I do the Chevy deal, would you come back?" He said, "If you got it together, I'll come back and try and work from there," but he felt like it's unfinished business, and I feel like it's business I need to start up the way I want to start up, and he was the driver to deal with me.
Why don't you share his name for people who might not know him.
His name is Greg Biffle. He's won over 19 races through the course of his career, and won a truck championship.
I mean he can drive anything. Right now, I think he's the oldest driver in the field? With that, he can still drive with the kid that's 21 years old.