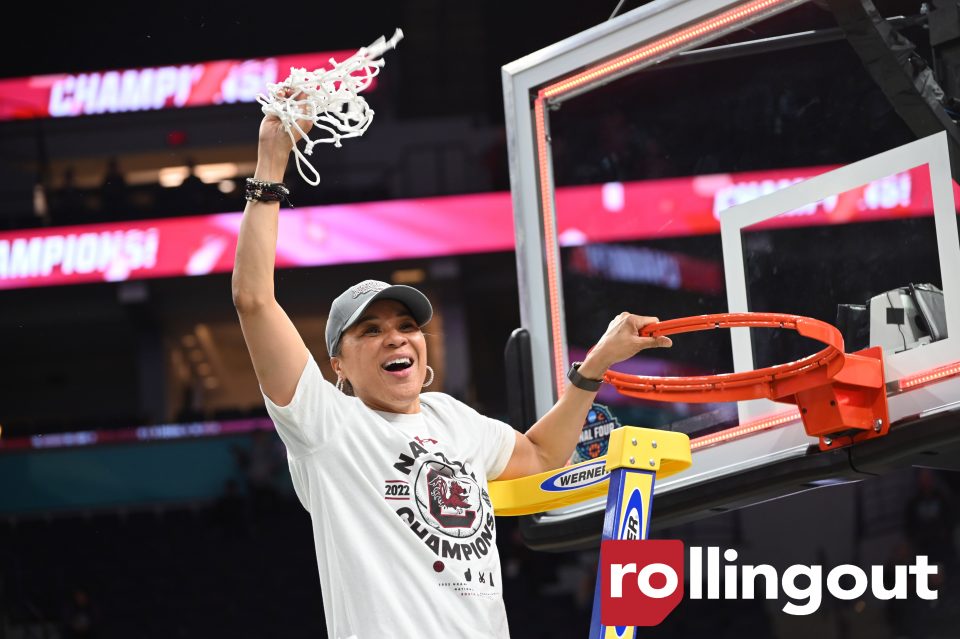 Dawn Staley has entered the annals of Black history once again.
With South Carolina's 64-49 win over UCONN in the 2022 NCAA Women's Basketball National Championship on April 3, 222, Staley became the first Black coach in men's or women's basketball to win multiple NCAA Division national championships, according to The Athletic's Rhiannon Walker.
As she wore this year's championship net around her neck, she still carried a piece of the 2017 championship net in her pocket to represent moving the game forward. She sent pieces of the 2017 championship net to other Black women coaches in college basketball, a move inspired by 1999 Purdue championship coach Carolyn Peck.
"I've been thinking some of our Black male coaches — they don't get opportunities," Staley said in the postgame press conference. "OK, and I'm going to take it a step further. Some of our Black journalists don't get opportunities to elevate, so we're going to try to cut this net up, give them a piece of it and hope that it will be something they can utilize to advance in the area that their heart desires to in their fields. So, I'll do that.
"It's going to be hard trying to figure all y'all out, so y'all can just email me. Find my number, text me and let me know. Send me your address so I can make it happen."
Staley is rooting for everybody who's Black. In a sport where White players reportedly get most of the coverage, she fought for the recognition of star center Aliyah Boston to win the 2022 National Player of the Year and landed a SLAM cover with herself, Boston, Destanni Henderson and Zia Cooke, all of whom are Black players.
Staley went into coaching after enjoying an illustrious playing career highlighted by winning three Olympic gold medals. She won another Olympic gold medal as the 2021 head coach of Team USA in the 2020 Tokyo Olympics (which were delayed until 2021 due to the COVID pandemic). Some fans might even remember her appearance on "Martin" during her playing days. Now, before our very eyes, Staley's becoming a legend in a different field of the game.
"This journey of being a coach has been truly gratifying," Staley said. "I have to reflect on this part of it [becoming the first Black coach to win multiple championships].
"It comes with a great deal of pressure. Pressure because we were the No. 1 team in the country throughout the entire season, pressure to come in the NCAA Tournament and become the favorites by most people, not all."
UCONN, who went 11-0 in championship games before April 3, also added to the pressure, according to Staley.
"I think that changed the narrative a little bit because of the success UCONN has had in our tournament," she said. "I felt a great deal of pressure to win because I'm a Black coach, because if we don't win, then you bring in so much other scrutiny like, 'You can't coach. You had enough to get it done, yet you failed.' You feel all of that."