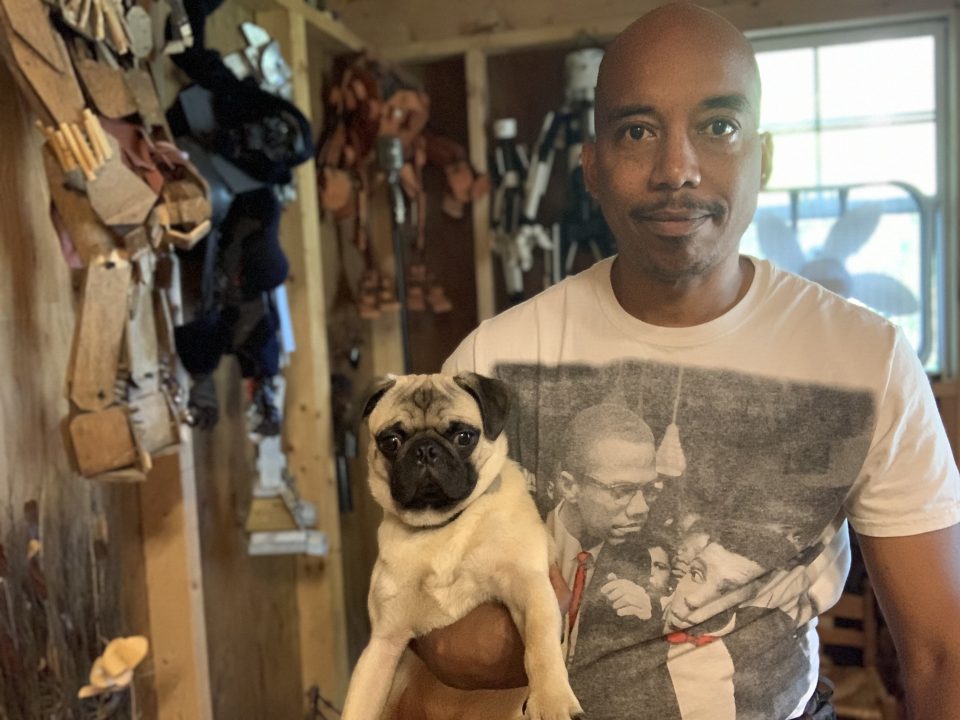 Tarish "Jeghetto" Pipkins was born in a small town called Clairton, just south of Pittsburgh. Pipkins taught himself to create art at a very young age and moved to North Carolina in 2005 to launch his career in puppetry. He started working with Paperhand Puppet Intervention three years later.
Pipkins had the opportunity to work with Missy Elliott on her "WTF" music video, controlling the Pharrell Williams puppet. He also worked on the Amazon Echo commercial featuring Missy Elliott and Alec Baldwin as puppets.
How important is imagination?
Imagination is everything that you see, every invention, everything that you were, all your devices were imagined in someone's mind first, and then brought into reality. Imagination is reality. The creator of all things had to imagine.
Why are you choosing to share your gifts as an Afrofuturist?
When you control your reality, that's power. If you don't control your reality, it's slavery. Power is freedom and if you can control your narrative that empowers your people to control what you do in the future. I've been studying American history since my young teens to 14 or 15 when I was so called "enlightened." Our American history is so horrific and traumatizing that I'm thinking we need that release, even to the point where it is kind of escapism. If it helps you to cope and deal with reality, I see nothing wrong with it.
When I started building puppets, I was doing historical pieces. Now I even have a genre of puppetry called "Docu-puppet-tries," where I do real tales. I actually have a puppet show about the lynching in the year 1921. That whole experience just led me to think that I should start focusing on our future reality instead of the past and present reality. I think puppetry is the perfect medium to do that with, because the sky's the limit. There's no limitations with a puppet. It defies physics, gravity, reality, all of that.
How can puppetry expand a child's creativity?
I've worked at a private school for children with special needs for six years and actually built a puppet to teach children on the autism spectrum social skills. Once I got into the field, I got pulled into STEM. I build robots. … Everything is mathematics, even when you're drawing, that's geometry. You have to have the geometry of the face. It teaches you measurements and physics, especially building lifelike puppets where you have to know the mechanics of elbow joints and sockets, and knee joints.
You'd have to know that if you do join two things, and you want it to be inlaid, you have to figure that out. Problem-solving is the biggest thing that I appreciate, and poetry is problem-solving. I have these materials, now I have to take these materials and turn it into an object, and after I create that object, I have to convince the observer that the object is real, and that's where the magic begins.