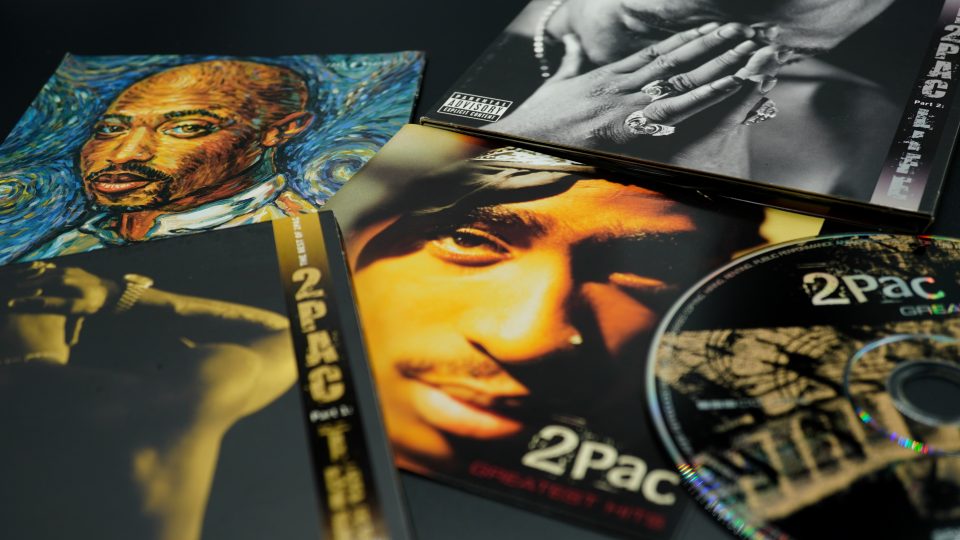 A heated herd of hip-hop heads stampeded onto the hashtag #RollingStone, inflamed and outraged at the music magazine's compilation of the "200 Greatest Rap Albums of All Time."
Hardcore fans, hip-hop journalists, and even casual observers immediately expressed exasperation, shock and revulsion at Rolling Stone for how and why the panelists could have the audacity to compile such a grotesque list.
Here are the top 20 albums of all time, as listed by Rolling Stone.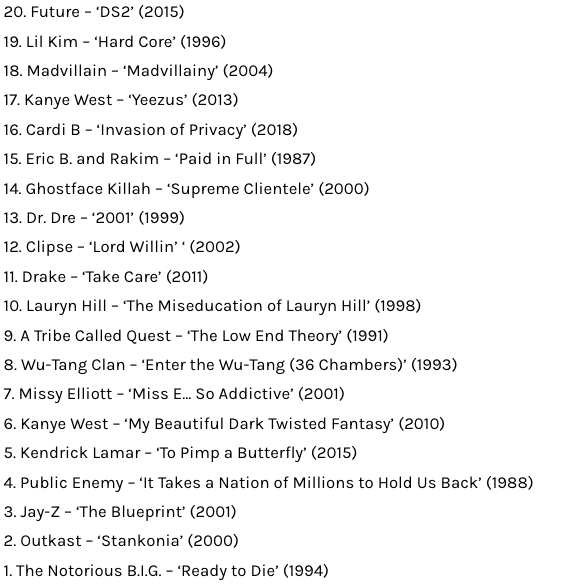 Among the most notable examples that caused miniature Twitter explosions was what fans call the indefensible and inexcusable placement of Cardi B's Invasion of Privacy ahead of Nas's timeless classic Illmatic, which is always included by hip-hop reporters in the argument as the best album of all time. 
Fans also twisted their faces at OutKast's Stankonia being listed at No. 2 when most rap fans believe that Aquemini and ATLiens were superior studio projects from the Atlanta duo of Andre 3000 and Big Boi. 
There was consternation that none of the seminal albums by Tupac Shakur, considered a demigod in the world of hip-hop, made the Top 25, while Travis Scott fans scoffed hard at Astroworld, which landed last at No. 200. Others believe that Dr. Dre's The Chronic was far better than Chronic 2001, which was ranked No. 13 by Rolling Stone.
And that's just for starters. Hip-hop fans from all corners of the continent converged onto Twitter like a swarm of hornets to spew venomous anger at the music magazine for such an atrocious list, at least in their opinions.
Hip hop best album of all the time list from Rolling stone is the proof that sniffing cocaine is more dangerous than going to Hell. This list is really trash and it shows that Rolling stone needs to stick to Rock and Pop. Let our culture handle hip hop. #HushpuppiFC

— Taah Kela (@zonguiati) June 8, 2022
'Best of all time' lists always spark controversy, but seeing my OG hip-hop journalist pals express exasperation for Rolling Stone's newest foray reminds me why we started @TheSource way back in 1988.

They disrespected and misunderstood the music from day 1. We were the anti-RS. https://t.co/lN6Z6Zp94b

— Jonathan Shecter (@SheckyGreen) June 7, 2022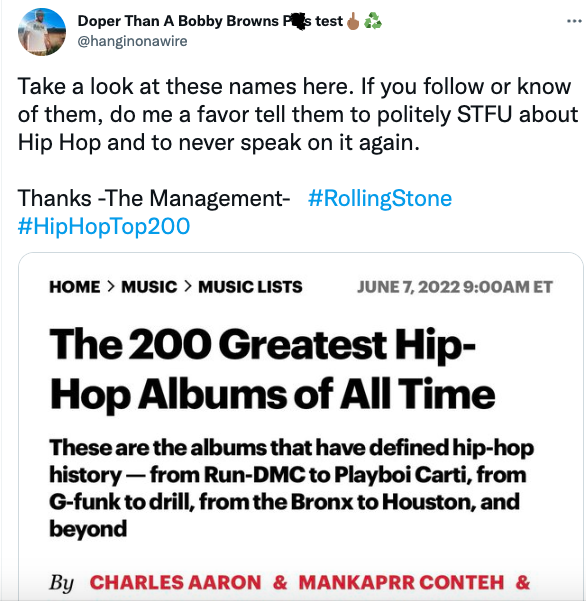 I'm a Biggie fan, my favourite rapper. But #RollingStone didn't include Tupac in the top ten of greatest rappers.🤔

— ___D 🇯🇲 (@_Unknown_He) June 8, 2022
Whoever wrote that #RollingStone Article and put Pink friday on #31 and IOP #14 must be high AF

— Alexa🍥 (@_AlexaMaraj_) June 7, 2022
How do you have Flygod by @WESTSIDEGUNN on your Best 200 Hip Hop Albums Ever list, but don't have the right album cover for the right album or the right year @RollingStone ? 🤦🏻‍♂️ pic.twitter.com/aTPjB1T0Q9

— Brian Costello (@BrianRCostello) June 7, 2022
Whoever wrote that #RollingStone Article and put Pink friday on #31 and IOP #14 must be high AF

— Alexa🍥 (@_AlexaMaraj_) June 7, 2022
THIS, is the greatest Hip-Hop album of all time, NOT Ready to Die. #RollingStone 👇🏾 pic.twitter.com/sOifocTF5u

— Errick (@errick1291) June 8, 2022
This is the guy who rated the greatest hip hop albums of all time #RollingStone pic.twitter.com/Hp7quAZ1tN

— Aaronya (@aaronya_) June 8, 2022