Zendaya has responded to the online rumors that have gone viral saying that is pregnant with her first child.
Somehow, the rumor mill went into overdrive this past week alleging that Zendaya was pregnant by her Spiderman: Homecoming and Spiderman: No Way Home co-star Tom Holland. She and Holland, 26, had been rumored to be dating years before they starred in this blockbuster movie series, but they finally confirmed their relationship in 2021.
Zendaya Maree Stoermer Coleman, 25, responded to the false rumors by posting a TikTok on Wednesday, June 15, 2022, of a fake pregnancy post made by a fan who was trying to impersonate her. The post was of a sonogram of a baby as well as a caption that said "I love you. Halfway there," and includes a fake comment made by another Spider-Man: No Way Home co-star, Marisa Tomei.
Turns out that the fake video is part of another popular trend that is called "Krissed" where an outrageous story or post is played. Then, halfway through the video, it is interrupted with the caption "You just got Krissed. Send this to your friends to #kris them!" The video also includes Kris Jenner dancing to "Lady Marmalade" which is sung by Christina Aguilera. 
Zendaya, who also made the critically acclaimed film Malcolm & Marie with Denzel Washington's son John David, used her Instagram page to inform her 145 million followers of her repulsion with Twitter.
Zendaya said, "See now this is why I stay off Twitter. Just making stuff for no reason … weekly."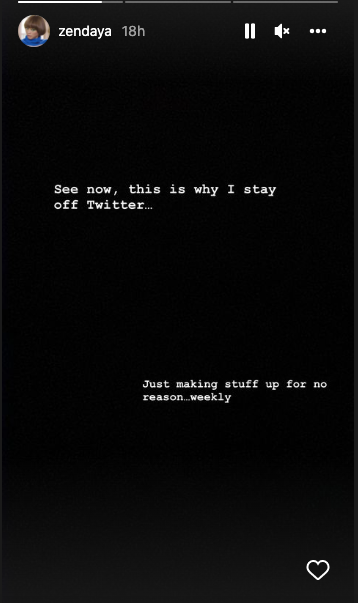 Clearly exasperated, yet resigned to accepting the fact that falsities are a part of doing business because of her vast international popularity, Zendaya then followed up a subsequent IG story, "Anyway back to filming Challengers."