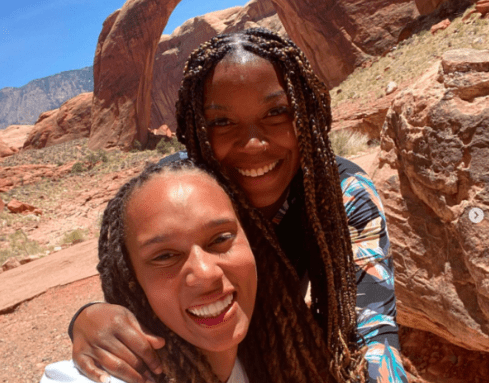 When the Russian and American governments finally negotiated a phone call between Brittney Griner and her wife Cherelle Griner for the first time in four months, the wife waited anxiously by the phone all day.
The call never came.
When the WNBA superstar, who has been holed up in a Russian jail cell since February, dialed the number to connect with her wife on their wedding anniversary, no one answered, the Associated Press reports.
Cherelle Griner, who'd anticipated hearing her boo's voice, instead spent her anniversary in tears roiling with volatile emotions.
"I was distraught. I was hurt. I was done, fed up," Cherelle Griner told the AP. "I'm pretty sure I texted BG's agent and was like: 'I don't want to talk to anybody. It's going to take me a minute to get my emotions together, and just tell everybody I'm unavailable right now.' Because it just knocked me out. I wasn't well, I'm still not well."
Apparently, no one was staffing the office at the U.S. Embassy in Russia on Saturday, a normal non-working day for Americans. Cherelle seethed with outrage over the faux pas.
On Monday, the U.S. State Department offered a mea culpa, saying: "We deeply regret that Brittney Griner was unable to speak with her wife because of a logistical error."
The episode exacerbates Cherelle Griner's ill temperament towards the State Department who ensured her that freeing the two-time Olympic gold medalist was among their highest priorities.
"I find it unacceptable and I have zero trust in our government right now," the wife raged. "If I can't trust you to catch a Saturday call outside of business hours, how can I trust you to actually be negotiating on my wife's behalf to come home? Because that's a much bigger ask than to catch a Saturday call."