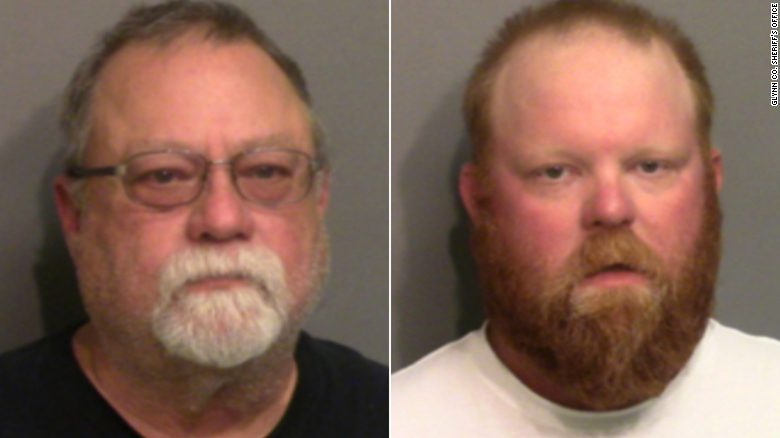 One of the men convicted in the vigilante execution of Ahmad Abery in Brunswick, Georgia, in February 2020, begged the federal judge for leniency and protection.
Gregory McMichael, Travis McMichael and William "Roddy" Bryan were convicted in the brazen, daylight murder of Arbery, a 25-year-old jogger who made the fatal mistake of running in the predominantly White side of town on that fateful day. 
The father actually had the audacity to cite the trial of Derek Chauvin, the former Minneapolis cop who was convicted in the merciless, on-camera murder of Greg Floyd on Memorial Day 2020, as a case for leniency.
Gregory McMichael, already serving state life w/o parole for murder of Ahmaud Arbery, has filed a memo asking not to receive life in the federal case.

He argues that it would be a "disparity" if he were sentenced to any greater than Derek Chauvin for the murder of George Floyd. https://t.co/pA8nrPQoRm pic.twitter.com/DwP6EF0aXM

— Ford Fischer (@FordFischer) August 3, 2022
The son, Travis McMichael, told the court through his attorney that he fears for his life.
U.S. District Court Judge Lisa Godbey Wood already denied their motion to overturn the hate crime verdict as she pointed out their racist jokes and violent rants on social media, CNN reports.
"All these Blacks are nothing but trouble; I wish they would all die," Gregory McMichael reportedly posted online, according to the news station. 
The McMichaels' attorney claims that people "are waiting for him," if he goes into the exercise yard and that correctional officers have indicated a willingness (whether for pay or for free) to keep certain doors unlocked and backs turned to allow inmates to harm him."
The legal document alleges that there were already 800 threats against the shooter, the younger McMichael, by January 2022. 
"His concern is that he will promptly be killed upon delivery to the state prison system for service of that sentence. He has received numerous threats of death that are credible in light of all circumstances, and the government has a pending investigation into the Georgia DOC's ability to keep inmates safe in a system where murder rates have tripled," according to the filing.
Not surprisingly, social media was not sympathetic to their fears.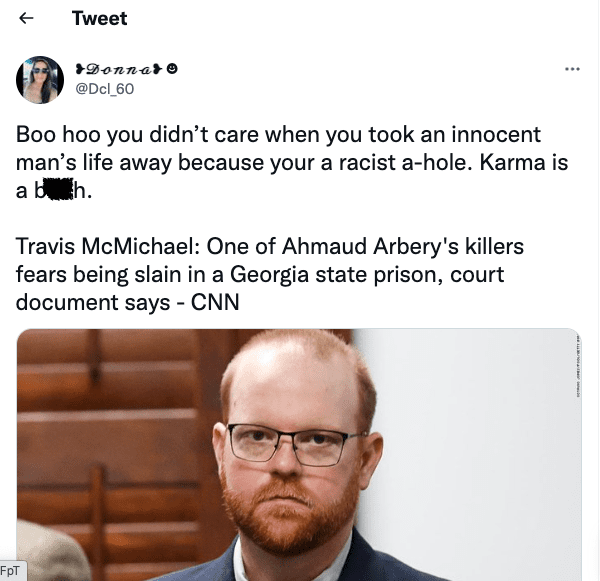 Travis McMichael, who fatally shot Ahmaud Arbery after hunting him with the help of two accomplices, says he fears he'll be killed by fellow inmates if he's sent to a state prison to serve a life sentence for murder.

Too bad he didn't think about that sooner.

— 🌹Weegie ☘️ (@onefussyone) August 5, 2022
The white man who initiated the neighborhood chase that resulted in the fatal shooting of Ahmaud Arbery is asking a federal judge to show leniency when he's sentenced next week for a federal hate crime conviction. https://t.co/TBAAQPRfQq

— The Associated Press (@AP) August 2, 2022