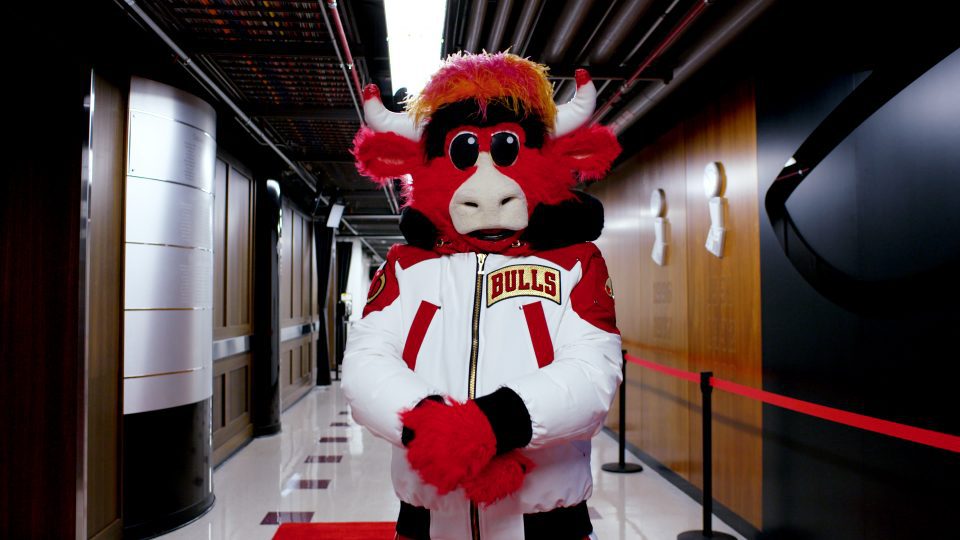 Canadian luxury outerwear label Moose Knuckles inked a multiyear collaboration deal with the Chicago Bulls. Chicago Bulls mascot Benny the Bull had a one-of-a-kind bomber designed for him and it was featured at an in-store event held at their location at 54 E Walton St. in Chicago. Rolling out spoke with Ayal Twik, the founder and chief marketing officer of Moose Knuckles, about the quality of their brand, their commitment to community, and what Benny thought of his jacket.
What inspired this creation?
Me and my partner's family were making outerwear for the Canadian military years ago. We basically took the same style that we were making for the military and we luxed it up. We took the best materials from all over the world then we crafted it and engineered it in Canada. We really created one of the warmest jackets on the planet using the highest quality materials in the outerwear industry. We're really proud of that.
What makes your product a leader in the industry?
We have expert craftsmen and engineers that are researching every day to use the best quality materials. The zippers that we use on our coats are manufactured to never freeze. We got inspiration from the Arctic dinghies in the Canadian Arctic. We had a company called YKK manufacture a zipper for us in Japan. That is just one example.
How was Benny the Bull involved?
Benny was very involved in the design of his own bomber and jacket. He wanted something that was stylish but a little bit over the top and outgoing, like his own personality. You know, we've asked him if he likes the jacket. Unfortunately he doesn't talk, but he did give us two big thumbs up to say that he loves the jacket and again, we use all the same quality materials that we use in any of our other jackets.
Unfortunately, the Benny the Bull jacket is one of two. They are exclusive to Benny because we're such big fans. Also, we thought if we manufactured them, they would be way too popular and it would cause some security concerns at our Walton Street store in Chicago.
What does it mean for Moose Knuckles to make an impact in Chicago?
Anytime we go into a market, we want to make an impact in the community that we're serving. That's no different with this partnership. Benny made an in-store appearance at the brick and mortar on 54 E. Walton on Dec. 15, 2022. Ten percent of the proceeds of all sales went to Chicago Bulls Charities. The Chicago Bull Charities are meant to serve under underserved communities in Chicago. We want to give back and, we want to give back to the people who've supported us for all this time.