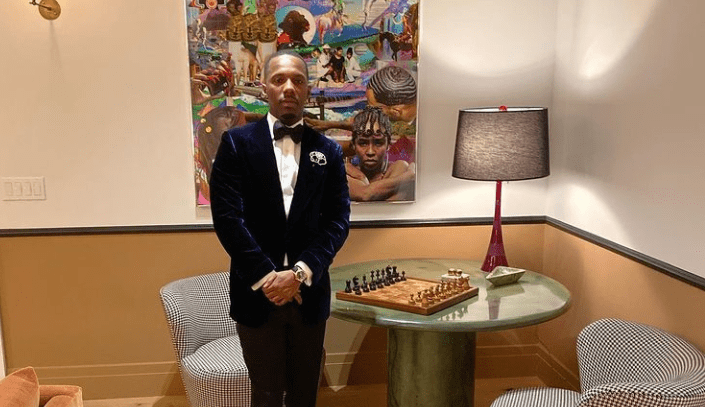 Adele is known for her longtime musical crush on Beyoncé, and has said on more than one occasion that one her favorite songs like "Put a Ring on It." Now, it seems as if Adele's boyfriend, sports agent Rich Paul, has done just that.
Rumors began swirling furiously after the likes of the Daily Mail and "Access Hollywood" noticed a large diamond on Adele's ring finger while she performed at her Las Vegas residency over the weekend of Feb. 24-26, 2023.
Oh My God! #Adele is sparking engagement rumors 💍 pic.twitter.com/E4kHDQ6eqv

— Access Hollywood (@accesshollywood) February 27, 2023
Paul, as most sports fans know, is the sports agent who reps NBA superstar LeBron James along with teammate Anthony Davis as well as Zach Levine, Ben Simmons, Draymond Green and many others.
The couple reportedly met at an industry party and then went Instagram Official in June 2021 when they sat courtside for the NBA Finals.
Things have gotten progressively more serious since, as the couple showed off the $58 million mansion they reside in together in May 2022. The home was previously owned by actor Sylvester Stallone.
During an interview with Rolling Stone, Adele described her relationship with Rich as being the most 'incredible, openhearted, and easiest' one she's ever been in. 
More recently in the fall of 2022, Adele elaborated in a cover story for Elle UK and Elle US on how she has completely fallen for Paul.
"I've never been in love like this," confessed the "Easy On Me" singer. "I'm obsessed with him. I definitely want more kids."
When the magazine quiered as to the ring that she'd been sporting on on her finger is an engagement ring, she explained:
"Well! Well. Well, I'm not married, "she said and then added, "I'm just in loooove! I'm happy as I'll ever be. I might as well be married."